Santa's in trouble, and Christmas is at risk, but you can help him. His home, the North Pole is melting fast because of climate change. The huge toy factory where he makes Christmas gifts every year, for all the little boys and girls around the world, is sinking into the Arctic sea, making it impossible for Santa's elves to finish making all the presents. There's no time to lose. We need to save the Arctic and help rescue Christmas.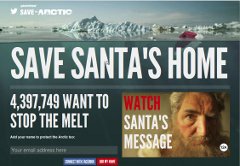 Over the last thirty years, the warming of our planet, caused by man-made climate change, has caused the Arctic sea ice to melt by 75% (measured by volume in summer). This isn't only a problem for Santa. It also affects the unique wildlife there, like polar bears, and the amazing narwhals - the unicorns of the sea.
Arctic sea ice also plays a vital role in keeping our planet cool, because its whiteness reflects the sun's rays. As it melts, our planet heats up even more, because the sun's heat is absorbed into the dark sea where once there was ice.
But not everyone sees the melting as a problem - big oil companies like Shell and Gazprom are rushing in to drill for oil in areas of the Arctic where the ice has melted. This is crazy, for two reasons. First, the use of fossil fuels like oil caused the ice to melt in the first place; and second, oil spills in the Arctic would be impossible to clean up. They would wreck this beautiful place - and leave Santa homeless forever.
World leaders are ignoring the problem - refusing to curb the use of fossil fuels or to stop big companies from drilling - they will definitely be on Santa's naughty list this year!
But Santa has a message for all of us. He wants us to help save his home, and rescue Christmas for the children of the world.
By signing the petition, you will be joining Jude Law, Paul McCartney, Vivienne Westwood and Madonna in helping us create a sanctuary around the North Pole. This would leave Santa in peace to spread joy around the world on Christmas Day.
Our strength is the power and size of our movement. So share the word with your friends. We saved the Antarctic and we can save the Arctic too, ensuring that Santa can keep making Christmas special for many more years to come.