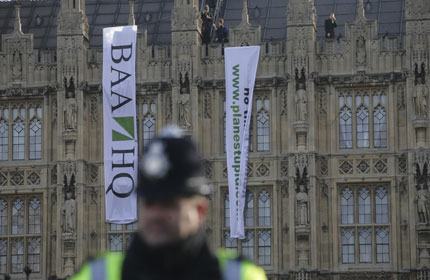 Plane Stupid protest at the Houses of Parliament
Another day, another voice loudly opposing plans for a new runway at Heathrow. Today, Plane Stupid campaigners have scaled the Houses of Parliament to protest at the collusion between government and the aviation industry.
In the absence of a genuine consultation with Londoners, the protest is a brilliant way to get the word out on the day the Heathrow 'consultation' ends. They've dropped banners reading 'BAA's HQ' down parliament's facade, and are enlightening the great and the good on their way to Prime Ministers' Question Time below by throwing paper aeroplanes - made from secret Whitehall documents that prove BAA has written parts of the consultation and the government has already decided to build a third runway - from the roof.
We should probably be getting used to our government being in bed with industry by now (see the recent revelations about the coal industry and the nuclear industry), but the amount of control industry has over government policy - usually to the detriment of the environment - still surprises.
Not only has BAA written parts of the consultation, it's also working with government in a body set up to ensure the third runway gets the go-ahead and to neutralise 'risks' to the planned expansion (that's the huge coalition of local residents, Londoners, environmentalists and all the major mayoral candidates opposed to airport expansion).
As a result, the document doesn't mention global warming, and opposition groups haven't been allowed to challenge data on noise and pollution (data supplied by BAA...).
Call me old fashioned, but maybe a better way of consulting with Londoners might be to ask them 'do you want a third runway?', instead of publishing a heavily spun document partly written by industry.
Plane Stupid's website has more.