Today Emma Thompson and her sister Sophie are occupying a fracking site. The actors are using whisks, spoons & cake to challenge fracking with their unusual protest - the Frack Free Bake Off.
Emma's no stranger to speaking up for our planet. From marching for climate justice to protesting outside Shell's HQ with a giant polar bear puppet, this is one actor who's not afraid of direct action.
Here's six moments when Emma took action on environmental issues.
1. The time Emma teamed up with a giant polar bear to stop Shell
Emma joined Aurora - the huge polar bear puppet - and over 60 activists outside Shell's London HQ last September, to send a message to the oil company's CEO to put an end to Arctic drilling.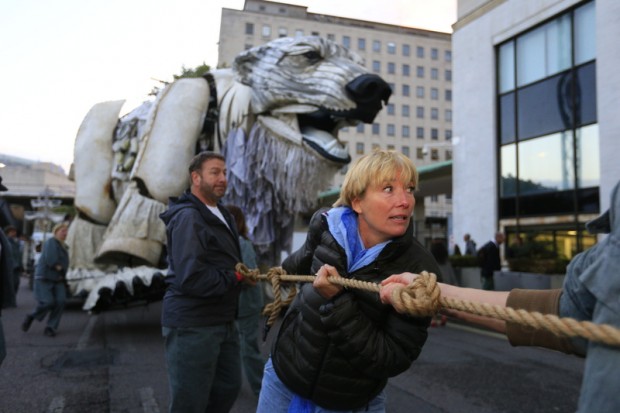 One badass highlight was the moment Emma was the first of scores of people to break a legal injunction banning Greenpeace activists from crossing a line drawn around Shell's building.
She boldly crossed the line to stick a giant paw print on Shell HQ, carrying the names of the seven million people who joined the Save the Arctic movement.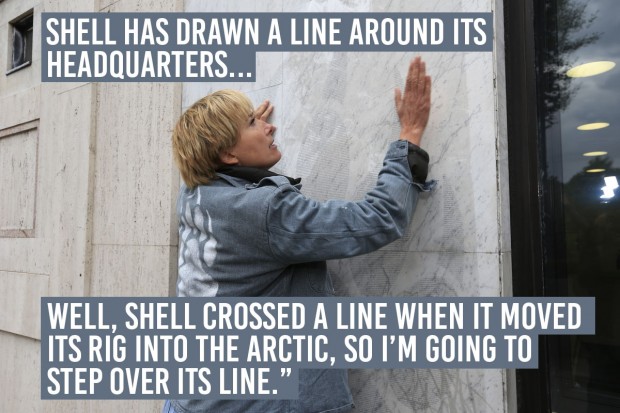 2. The time Emma visited the Arctic
When Emma visited the Arctic with Greenpeace in summer 2014, she not only helped to bring the media's attention to the threats facing this fragile environment but also went on a personal journey. Seeing what we stand to lose if oil companies are allowed to drill there left a lasting impression on Emma.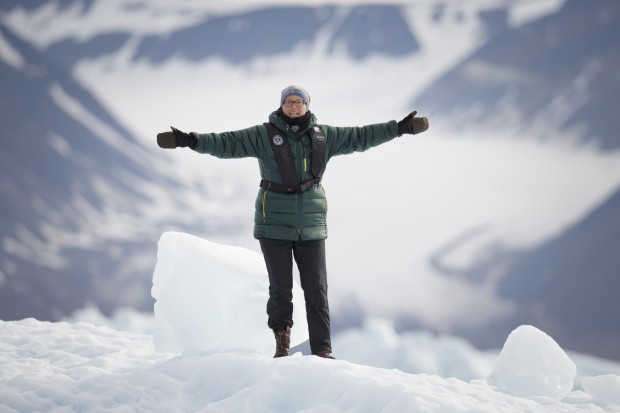 Accompanied by her teenage daughter Gaia, Emma's experiences of the stunning landscapes and unique wildlife fuelled her passion to protect the Arctic.
One of the trip's highlights was Emma reciting her beautiful poem Without the Ice the Earth Will Fail on board the Esperanza ship. Watch it here.
3. The time Emma joined celebrations outside Shell HQ... and reminded us all to keep fighting for the Arctic
Emma joined the party outside Shell HQ after the oil company announced it was cancelling its Alaskan Arctic drilling plans. She was reunited with polar bear puppet Aurora, who had stood in front of Shell's front door for a month protesting its drilling plans.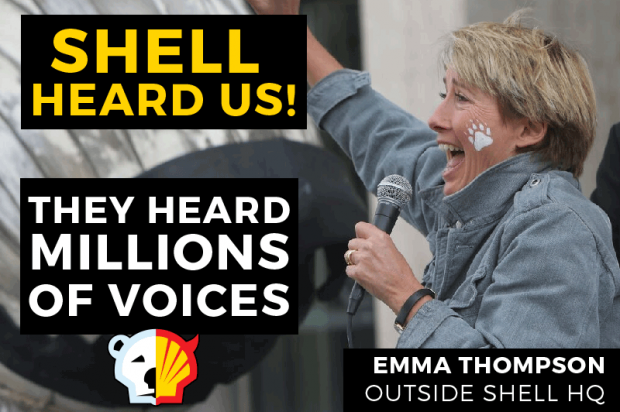 Emma delivered a passionate speech to the crowd, drawing on her own experience of visiting the Arctic the year before. "We have to protect it, it's so fragile, it's so beautiful" she pleaded. She also urged us all to keep fighting to Save the Arctic. "Let us use the energy from this victory to power the next steps," she said.
She even found time for this epic victory dance…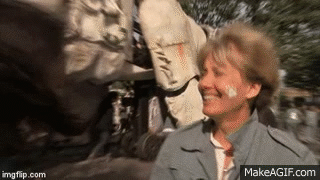 …before helping puppeteers move Aurora on from Shell HQ.
4. The times Emma marched for climate justice
Having just returned from their Arctic adventure, Emma and daughter Gaia marched through London with tens of thousands of people in September 2014.
The march was part of a global weekend of protests demanding urgent climate action, as world leaders gathered for the UN Climate Summit in New York.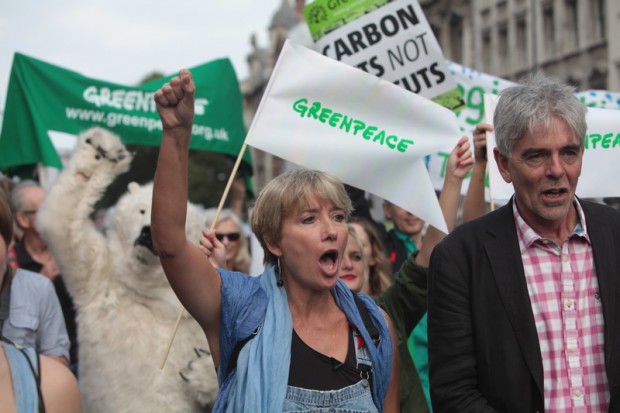 She returned the following year for the UK's biggest climate march, demanding ambitious action on climate change with thousands of others. Ahead of the big COP21 climate talks, Emma joined over 50,000 people marching through London to show world leaders that the world's eyes were watching them.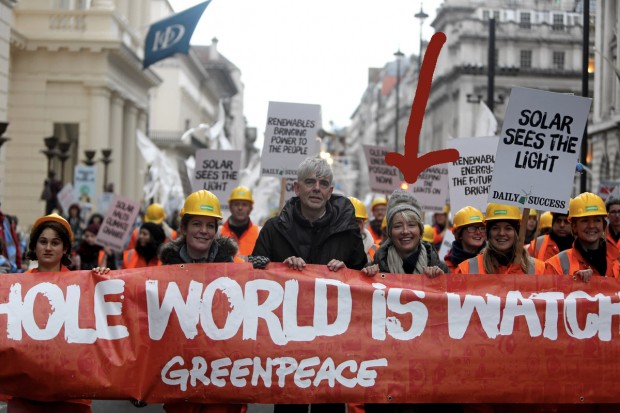 5. The time Emma supported the Heathrow 13 activists facing prison
When you're a Hollywood star, letter writing can have a big impact. Emma Thompson and fellow actor Alistair McGowan penned an open letter expressing "support and solidarity" for the Heathrow 13.
The 13 climate activists were arrested protesting against a third runway at the London airport. They were expected to be found guilty and face prison time.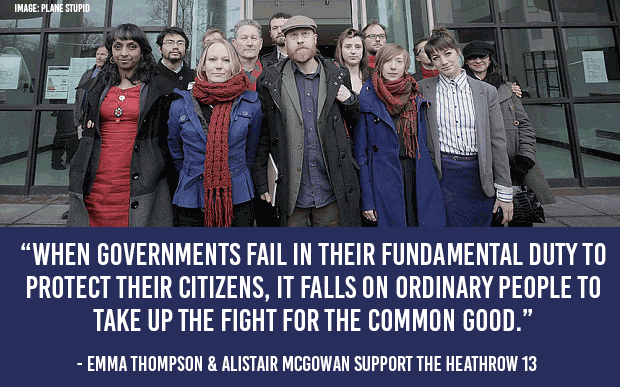 Thankfully, the Heathrow 13 avoided prison time. The public pressure for the activists to be spared jail is thought to have played a role in this decision.
6. The time Emma told the British Museum to dump BP
Recently Emma was part of almost 100 public figures urging the British Museum to drop BP as a sponsor, saying the Museum's reputation is being damaged by its ties with the reckless oil company.
Along with other influential voices, including Jane Goodall, Mark Ruffalo and Naomi Klein, Emma wrote to the British Museum's new director asking him to ditch BP's sponsorship of the museum - when the contract ends this year.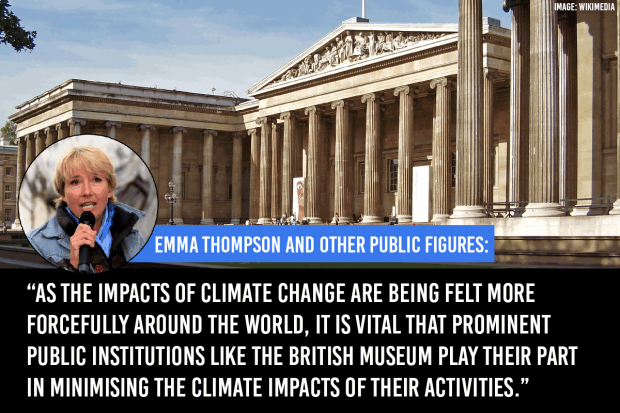 You don't need to be an Oscar-winner to take action for our planet. Government ministers could be about to overrule Lancashire council's decision to say NO to fracking. Sign the petition to stop them and leave a message about why you're against fracking.