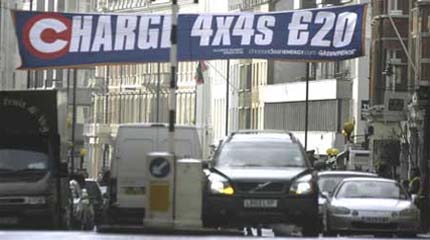 More than a hundred volunteers from Greenpeace and the Alliance Against Urban 4x4s took to the streets to poll Londoners about a proposal to increase the congestion charge to £20 for gas-guzzling vehicles like 4x4s. Of the more than 5000 people randomly polled throughout London, 85 percent agreed that the Congest Charge should be higher for gas-guzzlers.
Transport for London has put forth a proposal to increase the congestion charge from £5 to £8 for all vehicles. But the Alliance and Greenpeace want it raised to £20 for 4x4s and other high-emission vehicles to reflect the damage they do to the environment.
Many people on the street responded enthusiastically to the proposal with comments like "they should be ban the things". Some 4x4 owners also agreed the charge should be higher for gas-guzzlers.
The groups polled 5,494 people in twelve boroughs on February 26 and the results were forwarded to Transport for London before the consultation period for the proposal closed the following Monday.
To the question "Should gas-guzzlers like 4x4s pay a higher congestion charge than cars with smaller engines?" 85 percent answered yes.
Greenpeace and the Alliance are calling for a higher charge for vehicles which do less than 25 miles per gallon or emit more than 250g of CO2 per kilometre. Vehicles caught under the proposed scheme would include the Land Rover Discovery and the new Range Rover Sport.
Climate change is already killing tens of thousands every year, and gas-guzzlers like a Land Rover Discovery emit four times as much climate changing pollution as the most fuel-efficient family cars on the market. The congestion charge has led to a 19 percent drop in greenhouse gas emissions in the zone, but the increasing use of big 4x4s in London threatens to undo all the good that the congestion charge has done in reducing traffic and improving our air quality and quality of life.