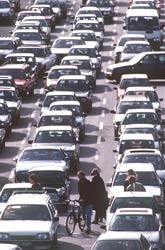 As reported in yesterday's news, London's congestion charge is being modified again to improve the capital's green credentials. From October, vehicles emitting the highest amounts of CO2 will have to pay £25 a day which gets a big thumbs-up, while the most efficient cars will get into central London free of charge.
Some commentators have pointed out that this effectively changes the purpose of the charge from reducing congestion to reducing pollution, and that's no bad thing. According to the World Resources Institute, road transport spews out around 10 per cent of global emissions (pdf), so providing incentives to move to more efficient models is going to do a lot to cut those exhaust fumes.
London mayor Ken Livingstone isn't the only one keen to get gas guzzlers off the road. Other authorities are already using financial sticks and carrots to encourage lower emissions from transport - our own Islington Council in north London is charging higher parking fees for the Chelsea tractors which rumble past the office - and cities such as Manchester are planning to implement their own congestion charge schemes.
Any genuine move to encourage improved fuel efficiency and reduce emissions from cars is great - it's gone down particularly well here as we've campaigned against gas guzzlers for three years - as long as those improvements aren't overwhelmed by increasing the number of miles your new, greener car travels. And that cuts to the heart of the issue: unless we reduce the amount we all travel by car - and reduce the need for travel overall - the transport problems we face, and of course climate change, will only get worse.