Campaign news updates:
Airfixed! Why the government's consultation on Heathrow is a sham
London mayoral candidates unite against Heathrow expansion
Want to make a noise about Heathrow expansion? Follow our advice on how to make a submission to the consultation process
Heathrow expansion consultation: events list
BAA files reveal collusion with Government over Heathrow 3rd runway plans
To listen to our politicians you'd think that the penny had dropped that climate change is the greatest threat we face. But behind the rhetoric the old 'business as usual' mentality still prevails.
Take the current proposal to build a third runway and a sixth terminal at Heathrow Airport. This will mean an additional 900 flights a day over London - almost 70 per cent more than current levels, and big increases in CO2 emissions.
Yet the government is planning to allow this massive expansion of air traffic - and it's just one of many expansions planned across the UK. If all or even most of these go ahead, we can kiss goodbye any hope of minimising damage to the climate caused by global warming.
Want to make a noise about Heathrow expansion? Follow our advice on how to make a submission to the consultation process. And why not add your voice to the roar of opposition to airport expansion via our video wall?.
Expanding Heathrow is crazy...
Britain's airports can't expand - not if we are serious about tackling climate change. According to the government's own figures, aviation is already responsible for 13 per cent of the UK's climateimpact and is one of the fastest growing sources of greenhouse gas emissions.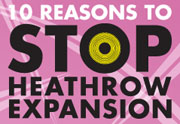 Of the many reasons not to expand Heathrow,
we've picked ten of the best
.
... and unnecessary
Flying is ten times more damaging to the climate than the train yet almost a quarter of flights out of Heathrow are to destinations which are easily reachable by train like Paris and Manchester. Switching to trains for easily reachable destinations would cut out the need for Heathrow expansion.
BA puts profits before the climate
Regardless of the longer term consequences, British Airways is determined to get a third runway at Heathrow. So far New Labour has allowed BA significant influence over policies which could affect the lives of millions.
What you can do
Let Gordon Brown know that he's a public servant and that we expect him to act in our interests, not help big business maximise its profits. There are two ways you can do this - send him a video message or write him a letter. In fact, why not do both just to ram the point home, it shouldn't take you more than a few minutes. Remember - one is good, but two's even better!
• Join the thousands who want to stop Heathrow expansion by adding your comments to our video wall. Make your voice heard!
• Write to Gordon Brown and tell him that minimising the effects of climate change is more important than increasing British Airways' corporate profits!