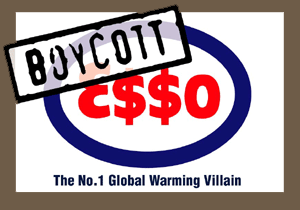 Stop Esso campaign logo
The UK Stop Esso campaign was launched in May 2001 by coalition members Greenpeace, People and Planet and Friends of the Earth.

Bianca Jagger unveiled a "Boycott Esso" mobile billboard at the campaign launch. The Body Shop, Annie Lennox, Ralph Fiennes, Jerome Flynn, Damien Hirst, Keith Allen and several politicians signed up to the boycott.

On the first Stop Esso Day, in villages, towns and cities across the UK and Ireland, over 3000 people peacefully and legally campaigned at Esso petrol stations.

Stop Esso Day II saw Julia Sawalha and Alan Davies join the protests at Esso petrol stations.

These were the largest non-violent direct actions against global warming ever seen in the UK.

May 2002 also marked the launch of Stop ExxonMobil, a US campaign aimed at Esso's parent company. Over the following months, Stop Esso spread around the globe.
UK KEY SUCCESSES

One million UK motorists won't buy petrol from Esso
A Mori opinion poll found that the number of people who say they regularly buy petrol from Esso fell by 25% between July 2001 and July 2002. Around 50% of UK motorists said they would stop buying Esso if asked.

Shareholders demand renewable energy
At ExxonMobil's 2002 annual general meeting, 20.3% of shareholders (the equivalent of $55 billion worth of shares), supported an independent resolution demanding the corporation report back on how it could invest in clean renewable energy. The major institutional investors who supported the resolution cited the pressure on the company from the Stop Esso campaign.

Investors warned of the risk
In September 2002, Deutsche Bank advised its investment clients that the Stop Esso Campaign was a risk to investments in ExxonMobil. The report on ExxonMobil, from the desk of leading oil analyst Dr JJ Traynor, said: "Being handed a reputation as environmental enemy number one for such a big consumer-facing business has to be considered a brand risk. "