Stop Esso campaign spreads across the globe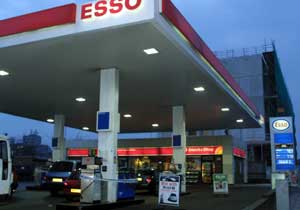 In 2002, action against Esso got well underway in the USA, Europe and New Zealand, as Greenpeace activists around the world joined in the protest.

MAY 2002

United States: Greenpeace USA launches it's campaign against the richest company in the planet.

Canada: Greenpeace activists lock themselves to fuel pumps at Esso stations in Toronto, Vancouver and Montreal, while volunteers in Bush masks urge motorists not to buy Esso.

New Zealand: Greenpeace issues "A Decade of Dirty Tricks" report outlining how Esso has undermined international climate change policy.

Luxembourg: Greenpeace volunteers dressed as tigers ride ahead of the opening of the Giro D'Italia bike race, flying a zepplin with a five metre banner reading "Stop Esso " over the crowd.

Ireland: Motorists are persuaded not to buy Esso fuel as Greenpeace activists, with tiger faces, hand out leaflets at Esso stations.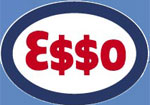 France:
Road and river traffic at France's largest oil refinery, owned by Esso, was bought to standstill by Greenpeace volunteers using inflatable boats to prevent tankers from leaving the refinery.
Germany:
At the German HQ of Esso, activists climbed the roof of Esso's ten-story building' and installed dollar signs in place of the letter 'S' in the corporation's logo. Banners reading "Esso: Maximum profit, zero responsibilty" were hung on the building.
JULY 2002

Canada: The David Suzuki Foundation, Friends of the Earth, the Pembina Institute, the Sierra Club of Canada and the Toronto Environmental Alliance join Greenpeace as part of a global campaign to stop Esso from fighting world efforts on climate change.

Germany: Greenpeace activists expose Esso's involvement as a major partner in the oil refinery Deutsche Transalpine Leitung (TAL).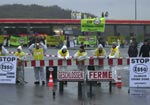 OCTOBER 2002
United States:
US activists shut down ExxonMobil gas stations in New York City and Los Angeles. More visited the offices of ExxonMobil's lawyers.
Luxembourg:
More than 600 ordinary people from 31 countries went to Luxembourg - known as the fuel pump of Europe - to shutdown every one of Esso's 28 petrol stations in Luxembourg - including the biggest Esso station in the world on the Luxembourg/German border
...more.