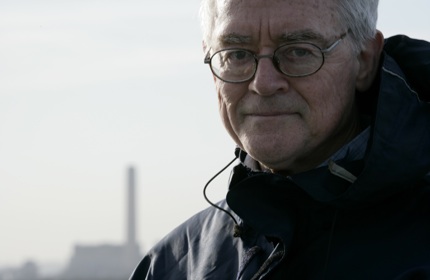 © Will Rose / Greenpeace. Dr Geoff Meaden on the deck of the Rainbow Warrior, in front of Kingsnorth power station.
See all Rainbow Warrior tour updates or get them by email.
---
Another day, another boat full of people keen to express their opposition to Kingsnorth. This time, they were representatives from across civil society - from church leaders and politicians to union leaders and activists - here to talk about Kingsnorth, coal and climate change.
Under heavy clouds and drizzle, the Warrior cruised past Kingsnorth (the pilot steering us so close that I could almost hear the sweat dripping from E.on's collective brow - rumour has it that there were around 100 police officers stationed near Kingsnorth today) and towards Kent Flats Wind Farm.
Dr Geoff Meaden, who you may remember as an expert witness at the Kingsnorth trial, explained that Kent's low lying lands are particularly vulnerable to climate change - including (ironically) Kingsnorth and (worryingly) Dungeness nuclear power plant. Have a read of Dr Meaden's witness statements from the trial for more about the impacts of climate change on Kent.
I spent the day speaking to the visitors: local councillors, peace movement veterans, Kent residents, local grassroots groups, MPs, and representatives from the local branches of Unison and the RSPB. What struck me most was that - for all the differences in perspective, background and life experience - there was a common determination to stop unabated new coal at Kingsnorth.
Have a listen:
The very eloquent Andy Rogers of Kingsnorth Climate Action Network:
I managed to grab a couple of minutes with Dr Geoff Meaden, climate change impacts expert and expert witness at the trial of the Kingsnorth Six, who was very in demand today:
Gill Moore, Kent resident and member of Friends of North Kent Marshes:
Paul Outhwaite of The RSPB (with a membership of over a million) was one of those giving a talk today:
Edith East, Greenpeace supporter, Green Party member and 87 years old today: