When the alarm rang at 4.45am this morning, I was already awake. Nobody overslept or moaned about feeling tired. And after a quick pre-action breakfast we piled into the minibus, loaded with climbing equipment, a huge banner and our petition printed with the names of 20,000 UK campaign supporters. We were on route to Lewes, the constituency of UK Transport Minister, Norman Baker, who this Wednesday will represent the UK in a make-or-break moment for the future of pollution from cars.
On Sunday night, around 20 of us gathered in a hostel in East Sussex. And over a dinner of veggie curry and flapjacks we discussed plans for the Greenpeace action the following morning. The climbers planned how best to hang the 18 metre wide banner.
On Wednesday, Norman Baker will have responsibility for representing the UK's views on future car emissions targets during a vote by the European Council of Ministers. European processes can be complex and multi-layered, but Wednesday is a make-or-break moment in what has been a two year battle against car companies and some of the politicians who have been heavily lobbied by them.
The vote comes at a moment when the greenhouse gas levels in the atmosphere have just reached 400 parts per million for the first time in human history, and when we are becoming increasingly locked into a reliance on unconventional and environmentally catastrophic forms of oil extraction, from deep water, tar sands and potentially the Arctic. We have the chance to cut car emissions in half by 2025 and reduce oil use in Europe by around 8%. Making cars that use less oil is technically possible; it would save drivers money on fuel; and, it is low-hanging fruit for reducing greenhouse gas emissions to safe levels - changes we urgently need to make.
But instead of supporting future targets for 2020 and 2025, our Lib Dem Transport Minister is supporting a loophole called 'super credits', which would allow car makers to over-count the electric vehicles they produce, and enable them to offset these against their gas guzzlers. This would bring the actual emissions up to levels beyond that allowed by the 2020 laws. He is also blocking attempts to set new targets for 2025. Without new targets we halt the progress that has so far been made on reducing CO2 emissions from cars, and lose this crucial chance to implement long-term change.
Today Greenpeace released a leaked briefing, detailing how the Department of Transport, led by Baker, has advised MEPs to vote against a 2025 target – which was proposed in the EU Parliament by a fellow Lib Dem MEP Fiona Hall. The briefing also revealed the government's sympathy for 'super credits'.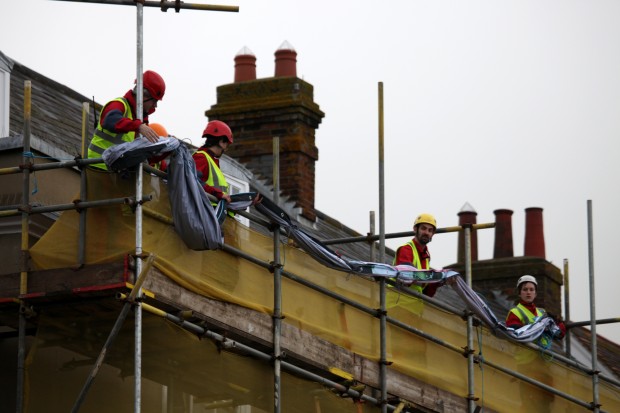 We wanted to let Norman Baker's constituents – the people who voted for him – know, and tell him to do better and live up to the Lib Dems climate promises. So at 6am this morning, we arrived on Lewes High Street and our climbers scaled a 5 storey building. Despite the rain and high winds of the last few days, and our fears late last night that we wouldn't be able to hang such an enormous banner; the winds dropped this morning and as we pulled into Lewes the sun miraculously began to shine. With the banner hung, another team of activists headed off to the local station to hand leaflets to people on their way to work.
Later this morning, we trooped around the corner to Norman Baker's constituency office to hand in a printed version of our online petition – 20,000 names of people from the UK (among more than 70,000 across the EU). The petition for cleaner cars will continue to run until the laws are finally agreed between ministers and MEPs in June.
Please add your name now – this is really the moment when you can tell politicians to make a difference.