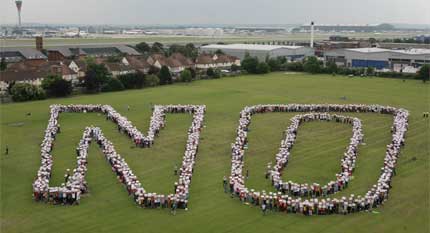 With the decision on Heathrow's third runway expected this year (honest), the atmosphere in Westminster is heating up.
Both opposition parties have come out strongly against the third runway; rebel Labour backbenchers are increasingly joining the opposition; there are signs that the cabinet is split over the decision; and the new transport secretary Geoff Hoon has called for a parliamentary debate on Heathrow expansion next Tuesday.
All of which means there are now two new opportunities for us (by which I mean you…) to intervene and make the opposition felt in the corridors of power.
If you only have a couple of minutes, the best thing you could do right now is to urge your MP to sign an early day motion urging the government to rethink its ideas on Heathrow and give full consideration to alternative forms of transport in the UK. Over 120 MPs - including Labour rebels – have already signed it. Make sure your MP is one of them.
If you live in or around London and are free on Tuesday 11th November, then there's something else you can do. As the parliamentary debate on expansion begins, we're going to make sure that MPs are fully aware of the scale of opposition to the third runway.
Meet us and other members of the coalition against airport expansion in Parliament Square at 5pm. We'll bring the banners, you bring your vocal opposition (and, if you have one left over from one of the flash mobs, your T-shirt). Hope to see you there.