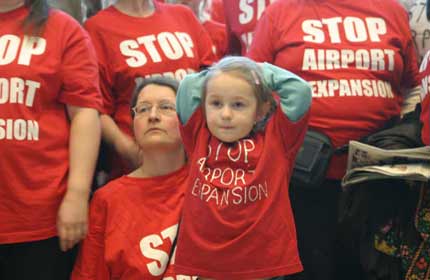 Flashmob at Heathrow's Terminal 5 this morning
This morning saw the opening of Heathrow's new Terminal 5 to the public. Unfortunately for the aviation industry and government - who wanted this to be a chance to promote their case for airport expansion - a large section of that public is vehemently opposed to unsustainable aviation growth, and not afraid to show it.
So at exactly 11am this morning, hundreds of people stripped down to reveal identical "Stop Airport Expansion T-shirts", and to highlight the problems caused by airport expansion and unsustainable aviation growth. Pictures of the flashmob are coming in to our Moblog thick and fast. Scroll to the bottom of the page to see video footage of the event.
T5 is the biggest terminal ever built in the UK - and a central part of the aviation industry and government's programme to treble in the number of passengers in UK airports. Another part of that programme is, of course, the building of a sixth terminal and third runway at Heathrow, which will mean an additional 600 flights a day over London - almost double 50 per cent more than [oops - my bad maths now corrected] current levels, and big increases in CO2 emissions.
A big thanks to everyone who turned up and got involved! Some more dates for your diary: on May 31st, there'll be a huge carnival and rally at Heathrow (organized by HACAN, NOTRAG, 2M, Greenpeace and the Campaign Against Climate Change). This year's Camp for Climate Action will begin in late July with a one-day event at Heathrow.