After 3 years of campaigning to stop Arctic drilling, we've just heard that Shell is backing out of drilling in the Alaskan Arctic. Millions of us across the world are breathing a huge sigh of relief after one hell of a fight. The global campaign against Shell's destructive plans has been nothing short of incredible: from 6 women climbing the Shard in London, to kayaks blocking a ship in Portland, to a giant polar bear taking Shell by surprise outside its front door. Here's a reminder of how it all happened.
December 2011. Despite expert opinion to the contrary, Shell launch a cynical PR campaign to convince the world that the Arctic is safe for oil drilling. They tell us "Shell is Arctic ready." But no oil company will ever be ready to drill safely in the Arctic - so across the world we spring into action. The Save the Arctic campaign is born.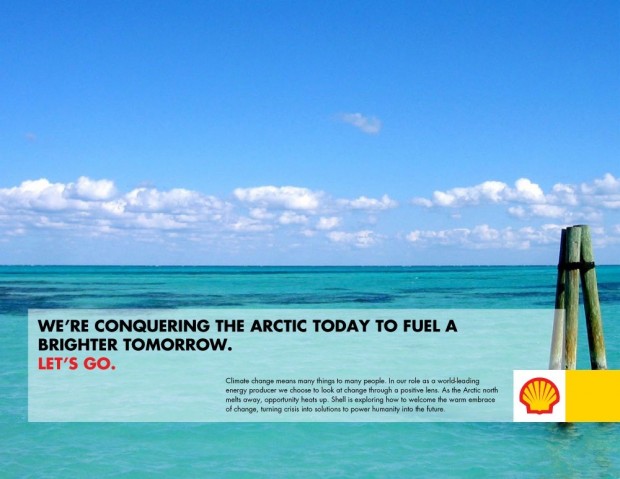 In February 2012, actor Lucy Lawless and 6 activists scale Shell's drilling tower, hanging "Stop Shell" and "Save the Arctic" banners from it. They are arrested but receive only community service, despite Shell's demand for reparations.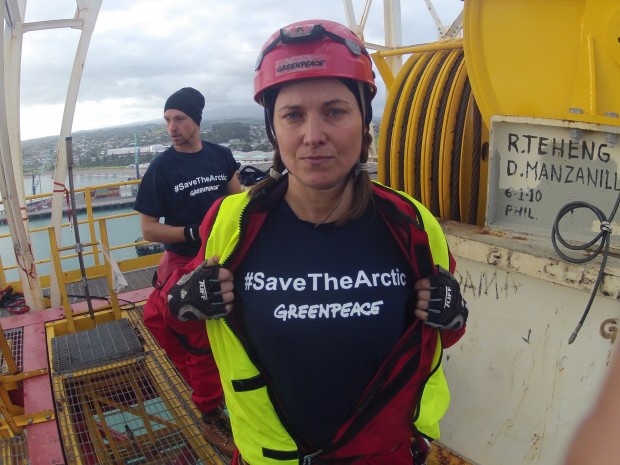 In June 2012, with the Arctic increasingly threatened not just by oil drilling, but by unsustainable fishing, we use a global summit in Rio to call for the UN to introduce an Arctic Sanctuary. The idea is to declare the area off-limits to exploitation and protect it from oil exploration. We proudly gain the backing of a whole host of high profile figures (from Paul McCartney to One Direction!) and reach an incredible 1 million supporters in the first month of the campaign.
In the same month, Greenpeace activists shut down 74 Shell petrol stations in Edinburgh and London in a protest against its plan to drill for oil in the Arctic. 24 activists are arrested, after removing petrol switches and posting them to Shell HQ.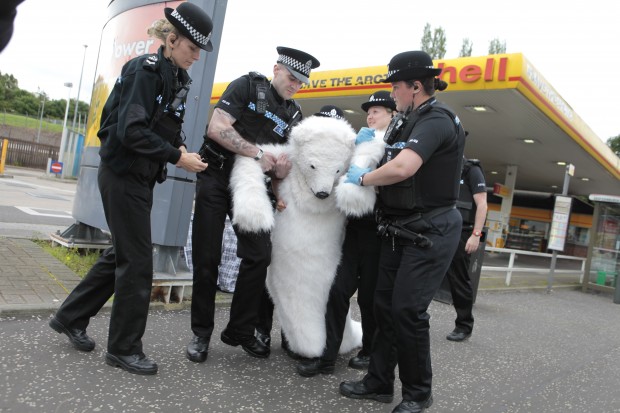 Meanwhile, even Shell's slick PR machine cannot hide just how terrible an idea Arctic drilling is. In July, Shell admits it will not "recover" 90 percent of any oil it spills in the Arctic Ocean, as it had claimed. It becomes more important than ever to thwart their drilling plans.
At the end of 2012, a series of failures begin to show up Shell's supposedly safe plans for drilling in the Arctic. In November the US Coast Guard detains Shell's Noble Discoverer rig due to serious safety problems. During testing, Shell's oil spill response equipment is "crushed like a beer can."
Then on New Year's Eve Shell's Kulluk drill rig runs aground in Alaska, after drifting out of control during a winter cyclone. The world is waking up to Shell's dodgy behaviour, with these huge mistakes splashed over the front pages worldwide.
In April 2013 four young explorers travelled to the Arctic, with American actor Ezra Miller, to place a flag on the seabed floor beneath the North Pole. The Save the Arctic "Flag for the Future" - designed by a thirteen year old girl from Malaysia in a global competition - was lowered together with the 3 million names of those calling for an Arctic Sanctuary. They were supported by the Archbishop Demsond Tutu who said "We owe it to future generations to protect the Arctic."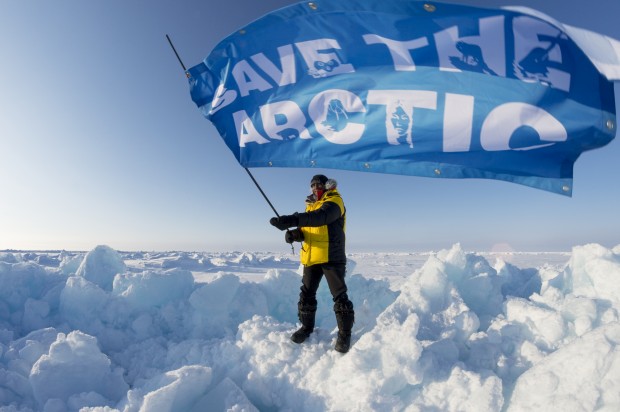 In August 2013, millions watch live as Shell's moment of glory as the F1 Grand Prix sponsor is ruined by the appearance of our Save the Arctic banner. The video gets banned from YouTube - but that just makes Save the Arctic supporters share far and wide until it gets millions of views.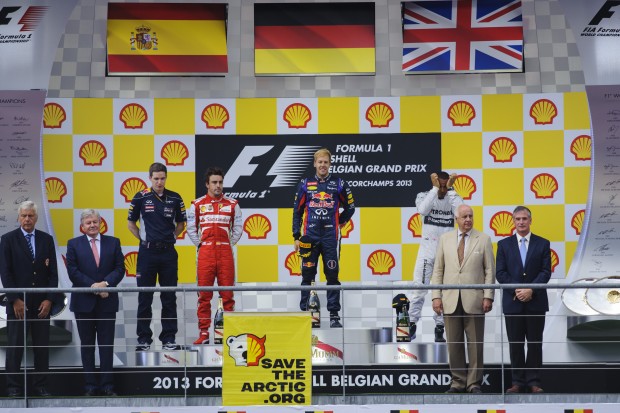 In July 2013 6 amazing women climb the tallest building in Europe, London's Shard, within close view of Shell's office nearby. It's this moment that really throws the spotlight onto Arctic drilling and Shell's awful plans. The activists say "They don't want us talking about their plan to drill in the Arctic. We're here to shout about it from the rooftops."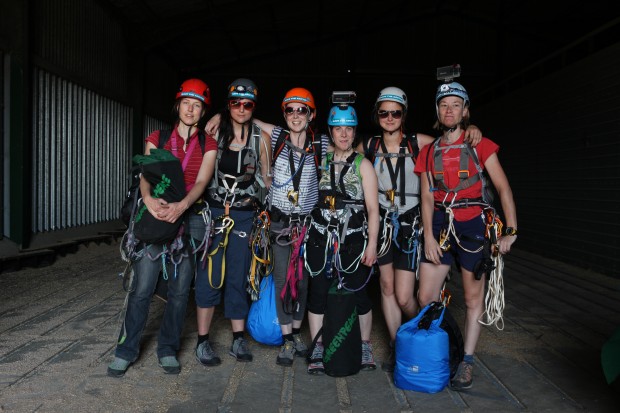 Arguably one of the most iconic moments of the Save the Arctic campaign comes as Russian authorities arrest 30 Greenpeace activists trying to board Gazprom's drilling platform on it's way to the Arctic. People across the world unite to stand behind these brave activists - and against Shell's oil drilling partners.
At the start of 2014 Shell announces it will not drill for oil in the Arctic for the coming year. It cites a huge 71% drop in profits and a court decision challenging the legality of its drilling leases. Shell boss admits that Arctic drilling is "under review" but it's still no time to rest on our laurels.
In July 2014 we show that consumers won't stand for companies that associate with Arctic drillers. We take on Lego's 50-year partnership with Shell. Our spoof advert "Everything is Not Awesome" is watched millions of times and makes embarrassing global headlines for LEGO. Eventually Lego is left red faced and pulls its partnership with Shell.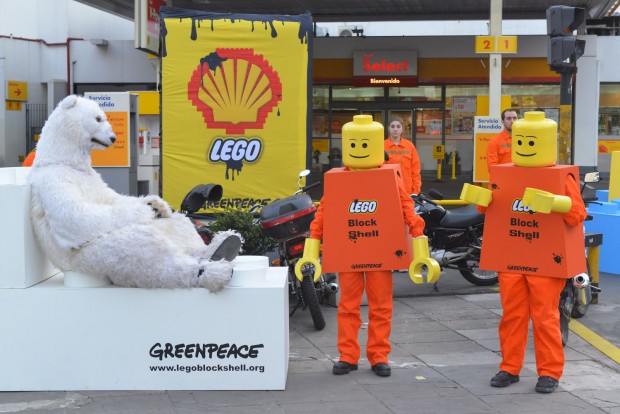 In August 2015 Shell gets the final go-ahead from the US government, despite Save the Arctic supporters now standing at 7 MILLION and hundreds of thousands of us asking Obama not to give it the greenlight. With conventional methods failing, activists see no choice but to use their bodies to block Shell's rig on the way to the Arctic.
First, Six Greenpeace climbers jump on an Arctic-bound Shell oil rig in the middle of the Pacific Ocean. Then activists in kayaks (coining a new term "kayaktivists") protest as Shell's drill rig leaves Seattle for Alaska, and later First Nations activist Audrey Siegel puts herself in front of it as it passes her home on the way to the Arctic.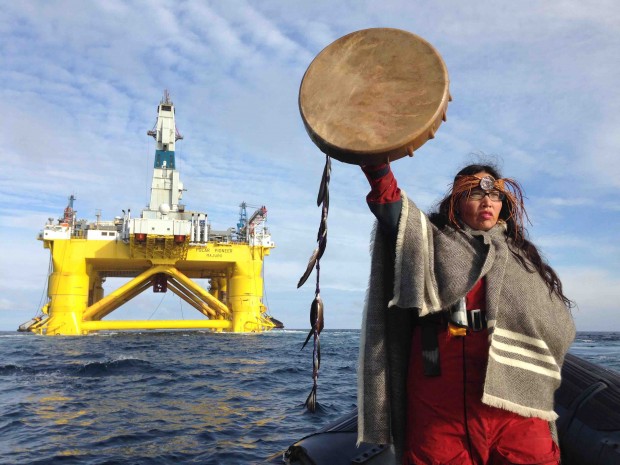 When Shell damages one of its ships and has to send it to Portland for repairs, 13 activists dangle from a bridge and force the ship to turn around, delaying it. But even then, Shell forges on into the Arctic - and millions of us fear an oil spill.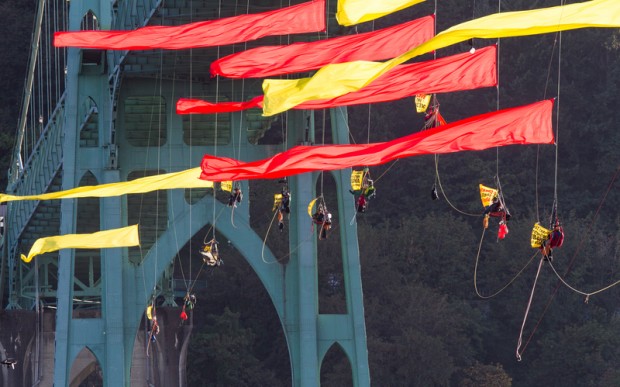 Here in the UK, there's a month-long musical protest to play a "Requiem for Arctic Ice" outside Shell HQ every day in August - including a guest appearance from Charlotte Church.
Then, Shell awake one Monday morning to find a giant polar bear has taken the fight right to their doorstep. Roaring her opposition, Aurora refuses to leave until the company leave the Arctic and she's joined by 60 activists and actor Emma Thompson.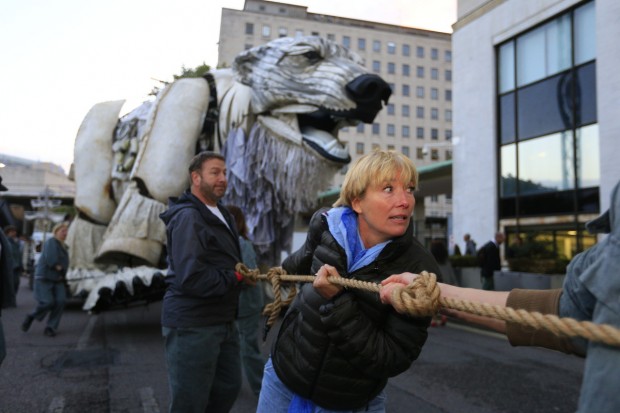 On September 28, Shell shock (and delight) the world by announcing they're finally pulling out of the Alaskan Arctic. To top it all off The Guardian reports today that on top of rising costs - get this - "Shell has privately made clear it is taken aback by the public protests against the drilling which are threatening to seriously damage its reputation."
As the years - and protests - have rolled on, it appears the tide has turned. In the last few months even Hillary Clinton came out against Arctic drilling, publicly contradicting President Obama's position. So it might have seemed like a David and Goliath battle to begin with - but in the battle of people vs Shell, we might just have won.
Now this battle is over, we must turn this incredible victory into proper, permanent protection for the Arctic. We will continue fighting to keep Shell and all other oil companies out of the Arctic for good, and to demand a global sanctuary in this pristine and fragile region that will protect it from further destruction. Get involved here: savethearctic.org