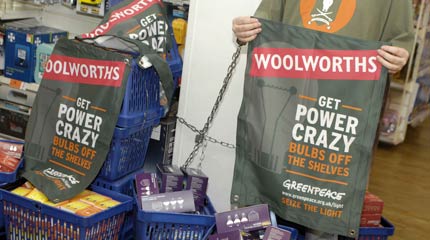 It's going to be a busy day at branches of Woolworths across the UK today as the Greenpeace Light Brigade pay them a visit to ask why they're still selling old-fashioned, power crazy light bulbs. Woolworths came bottom of our new league table, ranking light bulb retailers according to their commitments to phase out inefficient bulbs, so our volunteers have decided to take matters into their own hands.
Take action!

Call your local branch of Woolworths and ask why they're still selling power crazy bulbs

Email Trevor Bish-Jones, CEO of Woolworths
As I write, calls are coming into the office to say that in London, Edinburgh, Birmingham, Manchester, Leeds, Southampton and Cardiff, shelves have been cleared of inefficient bulbs, leaving only the more efficient (and, frankly, quite sexy) varieties left. They're also handing out free efficient bulbs to convince shoppers that there is a better alternative to technology that should have gone out with flares and Showaddywaddy.
Over the past few months, the Light Brigade have been sneaking into supermarkets and DIY shops, popping stickers onto stocks of inefficient light bulbs that point out just how wasteful and outdated they are. Now they've come out into the open to point the finger of shame at Woolworths and urge them to do much better.
Many retailers have already pledged to stop selling inefficient light bulbs by 2011 but some have gone even further - Habitat will phase them out by 2009 and Currys have already stopped placing orders for fresh stock. In our league table, however, Woolworths received a 'W' for 'worst': several other retailers fared little better (ASDA, Ikea, Morrisons and Somerfield, I'm talking to you), but Woolies came last for several reasons:
They've made no commitment to phase out inefficient light bulbs, not even by the government's proposed voluntary deadline of 2011;
They've not indicated to us that they'd support a ban on inefficient bulbs;
The efficient compact fluorescent lamp (CFL) bulbs that they do sell go for over 10 times as much as the cheapest power crazy bulbs, whereas other retailers sell them for as little as 49p;
For every CFL bulb they sell, no less than seven inefficient ones are sold as well. Even though Ikea also languishes near the bottom of our table, they sell a far higher proportion of efficient light bulbs - they make up 41 per cent of all Ikea light bulb sales.

So, hardly surprising they came last but although we've singled out Woolworths, there's a lot that all retailers can do to help tackle climate change. By responding to customer demand for more energy-efficient products - making them more affordable and readily available - and phasing out electricity guzzlers like those incandescent light bulbs, they can set a lead and show the government that there is support for tough minimum energy efficiency requirements to be enforced.
Changing light bulbs may seem like small change, but think about this - if every bulb in the UK was an efficient CFL one, we could close two medium-sized power stations. Given that there are only 11 nuclear and 18 coal-fired stations in the UK, that's a significant saving.
After all, you wouldn't buy a washing machine with an 'E' energy efficiency rating, so why settle for the same rating on a light bulb?