Sunday is Monkey Day! To celebrate our amazing simian relatives, here are a few of our favourite primate snaps (sorry, we couldn't resist including some apes too) from the Greenpeace photo archive.
Monkey Day is the perfect time to swing into action and help protect primate habitat by becoming a forest defender.
A siamang in Antan Kalang village. Land clearance for palm oil production is devastating for local wildlife, including the siamang and other primates, who are threatened by loss of their natural habitat.
© Ardiles Rante/Greenpeace 2009
A proboscis monkey leaps between trees in Borneo's Tanjung Puting National Park. Proboscis monkeys are listed as Endangered on the IUCN Red List. Its numbers have fallen due to habitat loss, as its rainforest home is cleared for timber and palm oil plantations.
© Ulet Ifansasti / Greenpeace 2013
A rhesus macaque with its baby in Sanjay Dubri Tiger Reserve.
© Dhritiman Mukherjee / Greenpeace 2012
Squirrel monkey. This is just one of the species Greenpeace has photographed in the Amazon, while investigating the impact the soya industry has on the rainforest's people and wildlife.
© Daniel Beltra/Greenpeace 2006
A young Bornean orangutan at the Orangutan Foundation International Care Center in Pangkalan Bun, Central Kalimantan. Expansion of oil palm plantations is destroying the species' forest home.
© Ulet Ifansasti / Greenpeace 2013
A langur holds hands with a villager in Antan Kalang village, Borneo.
© Ardiles Rante/Greenpeace 2009
The black spider monkey is part of the diverse wildlife living inside the Amazon's Cristalino State.
© Daniel Beltra/Greenpeace 2007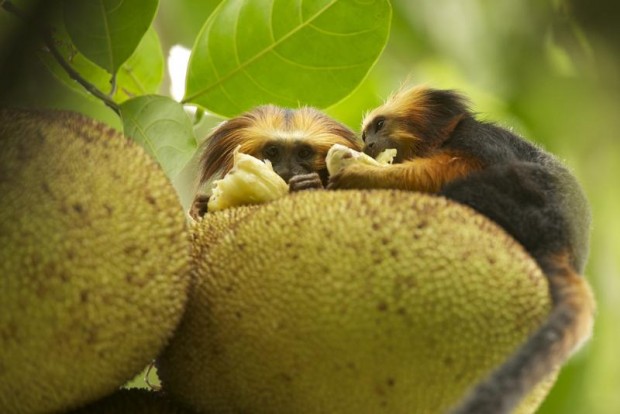 Endangered golden-headed lion tamarin in Bahia, Brazil's Atlantic Forest.
© Markus Mauthe / Greenpeace 2012
A bonobo sniffs a flower at a sanctuary in the Republic of Congo. Our closest relative, the bonobo is found only in the rainforests of the Congo and is being pushed towards extinction by destruction of its habitat.
© Filip Verbelen/Greenpeace 2004
Red capped mangabeys in Cameroon's Mefou National Park. This photo is from a Greenpeace tour, documenting the impact of industrial logging.
© Filip Verbelen/Greenpeace 2004
A common woolly monkey at the Centro de Instrucao de Guerra na Selva (Jungle Warfare School) in Manaus.
© John Novis/Greenpeace 2003
Greenpeace activists dressed as orangutans outside Nestle's annual shareholders meeting, protesting against the company's use of unsustainable palm oil from Indonesian rainforest.
© Greenpeace / Ex-Press / Tanja Demarmels 2010
Have these images inspired you to protect primate habitat? Sign here to become a forest defender.