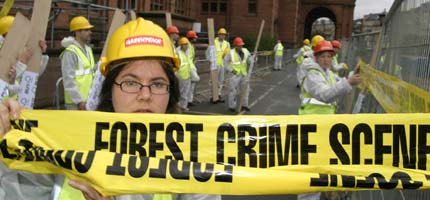 Work on the National Lottery funded refurbishment of Kelvingrove Art Gallery and Museum in Glasgow, the most visited museum in the UK outside London, was halted today by almost 100 Greenpeace activists from the Forest Crime Unit exposing the use of rainforest timber in the project.
The timber being used at the gallery has come from the rainforests of South East Asia, where species such as the orang-utan are heading towards extinction due to the destruction of their habitat.
The activists entered the site at 8.00am and removed packs of the timber, which is being used for new flooring, and replaced it with timber certified by the Forest Stewardship Council (FSC), guaranteed to be come from environmentally and socially responsible sources. At the same time, four Greenpeace climbers scaled the front of the museum and are planning to unfurl a banner reading 'National Lottery: Funding Rainforest Destruction'.
Greenpeace intends to deliver some of the rainforest flooring used in the building to Glasgow City Council, which has part-financed the refurbishment, as well as to the Department of Culture Media and Sport in London, which oversees the National Lottery.
Kelvingrove Art Gallery and Museum was awarded almost £13m by the National Lottery, some of which has been spent on merbau timber flooring. Merbau is sourced from the last rainforests of South East Asia and is at risk of extinction.
The company providing the timber, Junckers, have been unable to confirm the source of the timber they have used, stating that documentation regarding the source of the timber 'does not exist'.
Belinda Fletcher, Greenpeace forests campaigner, said: "The National Lottery should be using people's money to support good causes, not supporting the destruction of the world's last rainforests.
"It's outrageous that National Lottery projects like Kelvingrove continue to use rainforest timber during construction. If we don't want to confine the world's rainforests to history it's essential that all National Lottery funded projects in the UK insist on the use of FSC timber, like the timber that Greenpeace has brought here today."
Since 2000, Government departments have been expected to buy timber from legal and sustainable sources. Whilst Government ministers claim that they do issue guidance to Non-Departmental Public Bodies, like the National Lottery, to take sustainable development objectives into account, little effort has been made to translate these objectives into practice.
Other National Lottery funded projects that have used rainforest timber include:
Cardiff Millennium Stadium: £40m National Lottery funding included money spent on uncertified timber decking sourced from Africa's Forest of the Great Apes, home to chimpanzees and gorillas. Illegal and destructive logging is the norm here.
Kennet and Avon Canal: £25m National Lottery funding included money spent on lock gates made from Liberian rainforest timber. These forests are home to the forest elephant and the pygmy hippopotamus. The logging company supplying timber was also responsible for illegal arms smuggling into the country, fuelling civil war.
Greenpeace is today announcing that it's monitoring other National Lottery funded projects to ensure that timber used can be shown to come from legal and sustainable sources. The environmental group is calling on the National Lottery to immediately implement timber procurement guidelines for all the projects it funds. The projects being monitored include:
Arnolfini, Bristol
Town Hall, Birmingham
The Deep, Hull
City and County Museum, Lincoln
National Centre for Children's Books, Newcastle
National Waterfront Museum, Swansea
Playfair project, Edinburgh
The Public, West Bromwich
St Georges Hall, Liverpool
Shoreditch Town Hall, London
Wembley Stadium, London