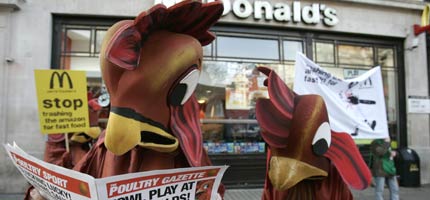 The Amazon rainforest covers 5 per cent of the world's land and extends over some 7.8 million kilometres. It is one of the most biodiverse regions on earth - at least 30 per cent of the world's land-based animal and plant species live there. The Amazon is also home to about 220,000 people from 180 different indigenous nations who live deep in the rainforest, and it plays a vital role in maintaining the world's climate.
Yet all this is threatened by deforestation to make room to grow soya beans.
In the last three years 70,000 km2 of Amazon rainforest has been destroyed - that's an area of forest the size of six football pitches every minute. Much of this destruction has been driven by the soya industry.
New Greenpeace research shows how this soya is being fed to the chickens that you eat at places like McDonald's. We have documented thousands of tonnes of soya is being exported from the heart of the Amazon into the UK. The soya is then fed to millions of chickens in the farms that supply McDonald's. This means that every time you buy a Chicken McNugget you're taking a bite out of the Amazon.
This morning seven-foot-tall chickens invaded McDonald's outlets across Britain in London, Edinburgh, Leeds, Manchester, Birmingham, Bristol and Southampton to expose McDonald's role in Amazon destruction. Overnight, scores of restaurants from Edinburgh to Southampton were fly-posted with images of a chainsaw-wielding Ronald McDonald.
The invasion follows a Greenpeace investigation that shows how soya is transported from the Amazon to an illegally built port facility in the town of Santarem - owned by US company Cargill - before being shipped to Europe to be fed to animals for McDonald's meat. Greenpeace investigators tracked shipments from Santarém to Liverpool, then followed and photographed Brazilian soya cargoes as they were delivered to chicken farms that supply McDonald's across Europe.
Using satellite images, aerial surveillance, previously unreleased government documents and on-the-ground undercover monitoring, campaigners have for the first time been able to track the trade in soya beans from the Amazon rainforest to the Chicken McNuggets eaten in restaurants across Europe.
For more information:
Read the Crime File We're Trashin' It! How McDonald's is eating up the Amazon
Read the Greenpeace International report Eating up the Amazon