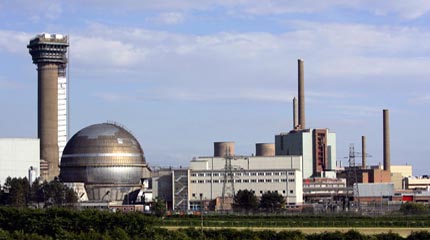 Sellafield: major ongoing problems have been hidden from the public
Yesterday, Gordon Brown felt compelled to go on the record to announce that the UK needs to not only maintain but to increase its nuclear power capacity. And yet the nuclear industry is not exactly hale and hearty because, let's face it, it's been a terrible week for the poor dears.
Hot on the heels of the news that construction of France's new flagship reactor had been halted due to safety concerns came a series of other body blows, including a large projected increase in future decommissioning costs, the unexplained shutdown of the Sizewell B reactor, and British Energy's profits fell by almost a third. The bad news just kept on coming as a new book challenged Sellafield's ability to deal with future nuclear waste, an American study reported huge increases in construction costs, and another reactor shut down unexpectedly yesterday - this time at Hunterston in Scotland. The full litany reads as follows:
So not good news on the nuclear front then, to say the least. And yet why is Mr Brown clinging doggedly to the idea of a nuclear future? The best guess here is that with BE being made as ready as possible for sale, the PM was engaged in a clumsy attempt to talk up the company's share price.
If that was the case he's unlikely to succeed - the nuclear industry will need more than a puff from the PM to shake off a woeful few days that must be shaking investor confidence in this outdated technology. In fact, given his plummeting popularity you could argue that his 'vote of confidence' was tantamount to putting yet another nail in the industry's coffin.