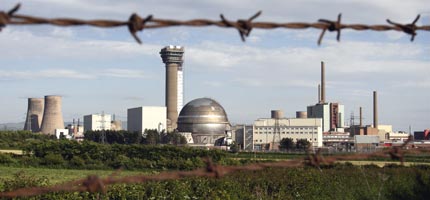 In a major blow to the government's plans to reinvigorate nuclear power in the UK, the High Court has ruled their decision to back a programme of new nuclear power stations was unlawful.
The case we brought to challenge that decision, presented at the end of the government's flawed energy review, was upheld by Mr Justice Sullivan who stated that "something has gone clearly and radically wrong" with the process.
It's a massive blow to the government's plans and, as a result, a new and fuller review will have to be conducted if they want to justify their continued support of nuclear power.
Sarah North, head of our nuclear campaign, said: "The government's so-called consultation on nuclear power was obviously a sham, and we're pleased that the judge has agreed with us.
"The government completely failed to consult adequately and even kept relevant documents to themselves. They've now been forced back to the drawing board to conduct a proper and lengthy review."
A full and frank review?
In 2003, the energy white paper put nuclear power on the backburner and the government committed itself to the fullest public consultation before any future decision was taken to reintroduce support for new nuclear power stations.
However, the review process conducted last year was fundamentally flawed, failing to present proposals and information on key issues surrounding a new generation of nuclear power stations. These included how radioactive waste would be handled and what the financial costs would be.
Mr Justice Sullivan agreed and in his opinion the review was "seriously flawed" and the process was "manifestly inadequate" and "unfair" because insufficient and "misleading" information had been made available by the government for consultees to make an "intelligent response".
Nuclear power is no solution
Even if the government does conduct a further review, the nuclear option is not one that should be pursued. Their central argument that it will help fight climate change is a poor one - nuclear power only provides 3.6 per cent of our total energy needs.
On top of that, the first new reactor would not come online until 2018 at the earliest, with the bulk arriving in 2025-2030. Yet we need to make reductions in CO2 emissions now, not in 20 years time.
It remains to be seen whether the government will go back to the drawing board and reconsult over the future of nuclear power in the UK, but in the meantime we will still be pushing for practical, effective and immediate solutions to climate change such as decentralised energy.