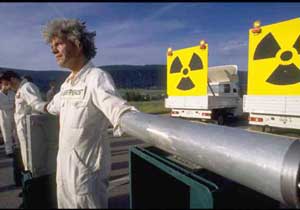 Greenpeace action against nuclear transport from Muehleberg to Sellafield
The Government's Energy Bill, which is due for its second reading in the House of Commons this week, may breach European Commission rules on state aid.

We sought expert legal opinion on the bill, which was designed to establish the Nuclear Decommissioning Authority (NDA). The NDA was meant to oversee the UK's radioactive waste problem, but its remit has already been extended - before it even exists - to bail out private nuclear companies.

Top state aid and competition experts, Paul Lasok QC and Rebecca Haynes, say the Bill could result in taxpayers footing the bill for future bailouts of troubled private nuclear companies.

The NDA was originally going to manage the massive clean up costs of the UK's civil nuclear industry - BNFL and UKAEA. But enabling clauses in the Energy Bill would also allow the NDA to take on private sector nuclear liabilities, including those at British Energy.

The European Commission has already agreed to a government bailout of £3.3bn for BE's nuclear waste liabilities. Letters from the EC to Greenpeace confirmed that the Energy Bill is now being analysed for its potential State aid implications. When the Bill went through the House of Lords, the EC's examination was not debated.
The wording of the Bill furthers the interests of nuclear power companies, instead of protecting the public by dealing with the hazardous legacy of the UK's nuclear waste stockpile. Clearly, the Bill has been hijacked by the nuclear industry.

We are calling for a full disclosure and examination of the Energy Bill's state aid provisions. The Government is clearly trying to pass legislation that could mean even more taxpayers' money is handed to the private nuclear sector in the future.

The legal opinion throws doubt over whether the Government can legally enable further funding for failed private nuclear operator British Energy (BE). In November 2002, Greenpeace exposed the Government's failure to notify the state bailout of BE to the Commission, which led to the ongoing EC investigation of the BE restructuring plan.

The EC investigation is not expected to report on the BE package until mid year at the earliest. Its preliminary report found parts of the package were unlawful. The Government bailout of BE will cost £3.3 billion for liabilities alone.
More
Download a full copy of Paul Lasok QC's legal opinion