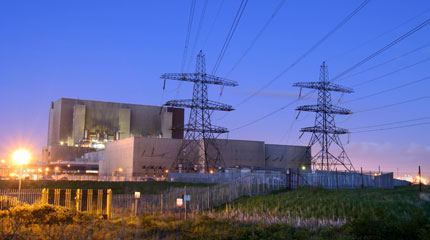 Hartlepool nuclear plant - completely out of action
Should you happen to find yourself debating with a passionate supporter of nuclear power about how to supply our country's future energy needs, the odds are that pretty early in the debate they'll play their trump card - namely that only nuclear can supply the 'base load' necessary to ensure that the lights stay on throughout the long, dark British winter. Hang the dangers of radioactivity, forget the ruinous expense, they'll say - we can't do without nuclear power.
Except that we can, and indeed regularly have to, do without nuclear power, as an investigation by the Independent on Sunday revealed this weekend. Out of our 10 supposedly operational nuclear plants, over half are in dire trouble, limping along at greatly reduced capacity. As reporters Geoffrey Lean and Jonathan Owen explain:
"Two of the 10 have been idle for almost a year, with both reactors out of action due to corrosion. Another two have had one of their reactors closed down for months. And yet another two are having to run both their reactors at less than three-quarters of their normal power for safety reasons."
Find out about real solutions to the UK's energy needs:
Renewable energy
CHP and local energy
Energy efficiency

And it gets worse. Of the remaining four, only two are currently operating at full capacity, one of which is scheduled for closure in two years time. A third is partially closed for routine maintenance, and the fourth is under a safety investigation following the discovery of cracks in Japanese reactors of similar design.
While the National Grid remains officially confident that there should be a power surplus even if we do have a harsh winter, it also admits to "a lot of uncertainty" in its projections. But independent analysts such as the internationally respected John Large are warning that shortages are a serious possibility, and laying the blame squarely on the rapidly deteriorating condition of our nuclear stock; "It's all in a pretty sad state. The reactors are starting to break up; they are becoming knackered. There comes a point when you simply have to turn the things off."
Of course, nuclear supporters will use the decrepit state of our existing nuclear stock as a justification for their urgent replacement. But given the inherent unreliability of the technology, and the problems, delays and cost overruns being experienced at the new nuclear plants being built in France and Finland, it's hard to see why we should waste a fortune on nuclear when there are cheaper, safer and more immediate options available to us.
Chief among these is industrial CHP (combined heat and power), which can not only match the 16GW energy output of the proposed generation of new nuclear stations for a fraction of the initial cost (£1 billion per CHP plant as opposed to £3 billion per nuclear plant), but will also operate at a massively higher efficiency level (over 80 per cent, as opposed to under 40 per cent) - making an important saving on fuel costs. When you combine this with our enormous renewable energy potential (the UK has the best renewable resources in Europe, but they are woefully under exploited), localised energy, and the huge savings we could make in energy efficiency if we were incentivised to do so, the case against new nuclear (and also dirty coal-fired) power stations becomes overwhelming.
It should be a no-brainer, and if the 'nuclear' buzz-word wasn't still such a turn-on for so many politicians it would be. Let's see if they are still so positive about it if and when the collapsing capacity of our current crop of nuclear plants causes the lights to go off this winter, effectively undermining the nuke-supporters' strongest argument - that nuclear is the most effective way to meet the base load of UK electricity demand.