Having made a startling movie which has changed the way people think about what's on their dinner plate, Charles Clover and the End of the Line team have now turned their attentions to restaurants which are still serving endangered fish.
A survey of more than 100 top restaurants conducted for their new guide, fish2fork.com, found that nearly 9 out of 10 were serving at least one 'fish to avoid' from over-exploited stocks. And some of the most critically-acclaimed eateries are among the worst offenders - 7 out of 25 Michelin-starred restaurants visited served species officially listed as endangered on the International Union for the Conservation of Nature's Red List.
According to Charles: "Some restaurants still have not grasped that sustainability is now part of the definition of good food. You don't want to eat a wonderful meal and have nightmares about the species you have pushed a little further towards extinction.
"This new guide shows the wonderful work some chefs and proprietors are doing with fishermen to make sure that they source fish of the highest quality caught in the most selective ways. It also shows the awful dark side of gastronomy, chefs who place an ephemeral taste, for which they can charge the Earth, above the survival of whole species and ecosystems."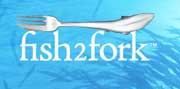 Searchable by restaurant name and location, the guide is the perfect place to get the low-down on the best and worst place to eat sustainable seafood. It's also asking all diners to send in their own reviews and either 'Pat a chef on the back' when they get it right, or 'Rat on a restaurant' if it has no policy on sourcing its fish from sustainable sources. So why not rate a restaurant near you soon using fish2fork's questionairre? You can either fill it in on line or print out a copy here.
The rating system is headed by five blue fish, described as " Best in class!" Top of the class so far is Raymond Blanc's Le Manoir in Oxfordshire. M Blanc was one of the first chefs to sign-up to our own Seafood See Life campaign, and also contributed a couple of cracking recipes to show just what can be done with sustainable seafood.
At the bottom end of the ratings, five red fish skeletons signifies the very worst. To be rated in this bottom category a restaurant "will almost certainly be serving one or more highly endangered species such as bluefin tuna or caviar from wild sturgeon. This is totally unacceptable when there are so many good alternatives available and shows a complete disregard for our planet and its fish stocks."
Sadly some of the most prestigious restaurants in the country fall into this category. London landmark J Sheekey, part of the group which which also owns the Ivy and the Caprice, was guilty of providing confusing information and appearing to serve endangered species. Then of course there's Nobu London, part owned by actor Robert De Niro, and target of our own bluefin tuna campaign. It was also awarded the guide's lowest rating - five red fish skeletons.
The verdict of Charles and the team? "Even if this place has handfuls of Michelin stars and AA rosettes you wouldn't find us going there."