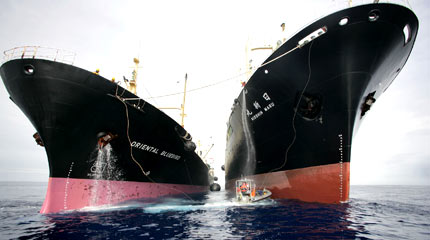 Oriental Bluebird, left, refuels the whaling factory ship Nisshin-Maru in the Southern Ocean Whale Sanctuary, 2007
The Japanese whaling fleet's key supply vessel, Oriental Bluebird, has been de-flagged and fined following a legal ruling by Panamanian authorities, where the ship is registered. The owners of the former oil tanker, used to refuel the fleet in the Southern Ocean and to ship whale meat back to Japan, were fined the maximum penalty after being found guilty of:
using the ship for purposes it was not licensed for (ie carrying whale meat rather than oil)
violating the MARPOL convention (a treaty designed to eliminate the deliberate, negligent or accidental release of oil and other harmful substances from ships into the marine environment) after illegally refuelling whaling vessels in Antarctic waters.
Since the Japanese government is a signatory to the MARPOL treaty, the ruling means that because Oriental Bluebird has been found guilty of violating international agreements, Japan should not use it for the whaling programme, even if it is reflagged. The treaty bars Japan from allowing a ship to participate in the exploitation of marine living resources for at least three years, if that ship has changed its flag after being found in breach of international conservation measures.
The whaling fleet, including the Oriental Bluebird is currently docked in Shimonoseki, from where it is due to depart on its so-called scientific whale hunt to the Southern Ocean in the next few weeks. Without a refuelling and supply vessel the hunt would have to be abandoned, and time is short to find a suitable replacement, so it will be interesting to see how the Japanese government proceed. However, given that they have just added an extra coastguard ship to act as so-called "protection" for the fleet (at a cost of $ 8million), it seems unlikely that the hunt will be called off.
So the Japanese government remains committed to spending vast amounts of its taxpayers' money to defend the indefensible and militarise a hunt of endangered whales inside an internationally designated whale sanctuary. That hunt is neither scientifically or economically credible, and has now been proven to be using illegal vessels. What more evidence is needed to cancel it?"
Meanwhile two Greenpeace activists, Junichi Sato and Toru Suzuki, are still under house arrest in Japan and are facing up to ten years in jail for exposing an embezzlement scandal at the heart of the annual whale hunts. Their arrest was clearly a politically motivated attempt to stifle opposition to whaling; the charges against them should be dropped immediately, as should the government's entire whaling programme."