Tuna has finally gone mainstream, following the outcry in the media that John West* has broken its sustainability and traceability promises.
We've reached millions of people, from This Morning with Hugh Fearnley-Whittingstall and Radio 2's Jeremy Vine show, to The Times front page and countless other newspapers, everyone is outraged by the embarrassing progress John West has made meeting its sustainability promise to customers.
Yet, instead of admitting its mistakes and taking responsibility for its actions (which is rule no.1 of companies dealing with crisis), it continues to do the very opposite. It's making weak denials which are fooling nobody. In fact, John West's behaviour has been described as "semi-criminal" by a global Corporate Social Responsibility expert.
Thousands demand change
More than 70,000 people have pledged not to buy unsustainable and unjust tuna, and more than 110,000 emails have been sent to John West, their PR company Grayling, John West's EU owners MW Brands, as well as their overall owners Thai Union.
These thousands of people are demanding that John West recommits to eliminating destructive devices called FADs from its tuna sourcing. Also, that John West call on their owners – the world's largest tuna company Thai Union - to reform their global supply chains to ensure fish are caught sustainably and workers are guaranteed to be treated fairly.
Thai Union is the global target of our campaign and the biggest seafood company Greenpeace has ever faced. They have been increasingly linked to human rights abuses in their seafood supply chains which means workers are being exploited to fill cheap cans of seafood, even pet food.
Don't just take our word for it
Recently, almost 5 million trade union members called on Thai Union to prevent human rights abuses and reform their environmental practices.
John Kerry, US Secretary of State has spoken publicly about the cruelty suffered by a victim of abuse in the Thai Union supply chain - exposed by the New York Times early this year.
And even the CEO of Thai Union himself has admitted that "it is difficult to ensure the Thai seafood industry's supply chain is 100 percent clean."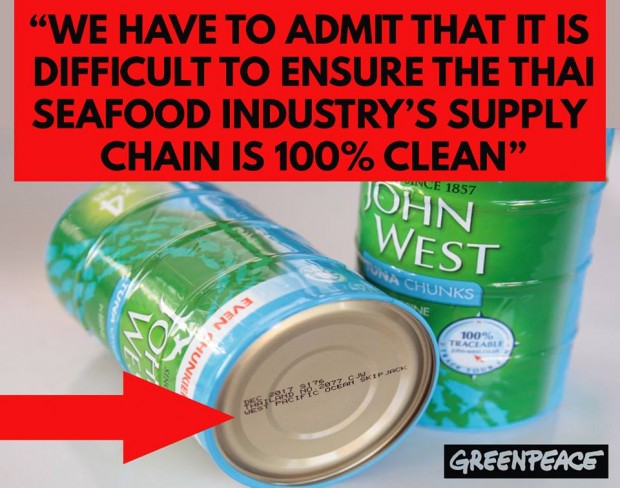 What can you do?
*Note, confusingly, there is another tuna company in Australia called John West. This is a totally separate company to John West UK and is not the target of our campaign.