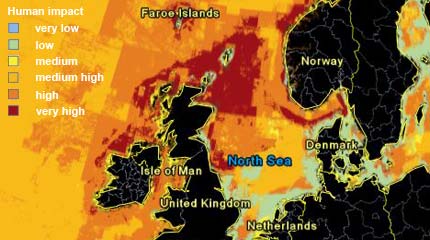 It's official; mankind is killing off our oceans far faster than previously thought. The first global-scale study of human impacts on marine ecosystems, published today in the flagship US journal Science, reveals a picture of widespread destruction with few if any areas remaining untouched.
By overlaying maps of 17 different activities including fishing, climate change, and pollution, researchers at the National Center for Ecological Analysis and Synthesis (NCEAS) have produced a composite map of the heavy toll that we are taking on the seas.
And it's not looking good - more than 40 per cent is heavily degraded, including large areas of the North Sea, the South and East China Seas, the Caribbean, the east coast of North America, the Mediterranean, the Red Sea, the Persian Gulf, the Bering Sea, and several regions in the western Pacific. The least affected areas are largely near the poles.
On the map above the worst affected areas are marked in red and shades of orange. As you can see, our own North Sea is in deep trouble from years of over-exploitation and pollution. Without immediate action to create marine reserves (large areas which are off-limits to all extractive industries like fishing and oil production) we will soon be left with an oceanic wasteland. It's frightening, particularly when you remember that as recently as 50 years ago oceans were seen as a limitless resource - there were thought to be so many fish that no amount of fishing could make a dent in their numbers. Now key species including cod, plaice, haddock and sole are all under threat.
Climate change and pollution are also taking a heavy toll: the study classifies only four per cent of the oceans as being in pristine condition - mainly around the polar regions. Unfortunately, they are under increasing risk of degradation as polar ice sheets disappear due to the warming global climate and increasing levels of human activity. As for pollution, the biggest threats come from toxic wastes dumped into the seas by heavy industry and the massive amounts of plastic we throw away each year - click here to listen to Greenpeace scientist Dr David Santillo being interviewed about this problem on this morning's Today programme on BBC Radio 4.
While there are no quick or easy solutions to these problems, the creation of a network of large marine reserves would limit the worst of the damage and provide a chance for recovery to take place. And this is starting to happen, albeit too slowly. In fact the creation of the world's largest ocean wilderness was announced yesterday. The Phoenix Islands marine protected area in the Pacfic is one and a half times the size of Britain and contains numerous coral reefs and seamounts which act as essential breeding grounds for hundreds of marine species.
How you can help
We are calling for 40 per cent of the oceans to be protected from all extractive industries including fishing, and for sustainable practices to be enforced throughout the remaining 60 per cent. Please help keep up the pressure by writing to UK environment minister Hilary Benn and asking him to do all he can to make marine reserves happen.