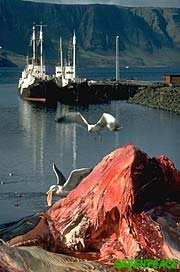 No sooner has Iceland granted permits for some of it's fisherman to resume commercial whaling than they discover, big surprise, what informed opinion has been telling them all along - namely that they would struggle to find any market for the meat. 200 tonnes of whale meat is in storage while tests are done on its toxicity, and even Sigurour Njáilsson, captain of the ship that caught them, admits that it's "unfit for domestic consumption".
But crafty Sigurour has another plan - to sell the meat to Japan. After all the Japanese are famed for their insatiable desire for whale meat, aren't they? Well, not so much as you'd suppose actually. Turns out the Japanese eat on average only 46g of whale meat per person per year (compared with 12.1kg of pork and 10.5kg of chicken), and have almost 5,000 tonnes of the stuff stockpiled because their own domestic demand is so low. And not only that, but Japan very rarely imports whale meat due to fears of toxicity and contamination, as Norwegian whalers found to their cost a few years back when they tried to open up an export market to Japan in the same way that Iceland is doing now.
So no, Sigurour, you won't find an eager market for your whale meat in Japan, and there's certainly not enough demand at home in Iceland to keep you in the commercial whaling business. But why do seven endangered fin whales have to be killed before you find this out - that shows a lack of interest in your chosen area of expertise which borders on criminality.