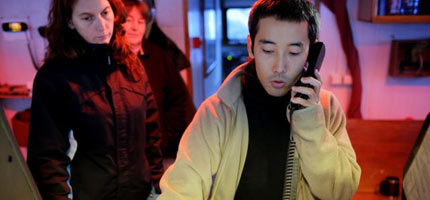 Greenpeace campaigner Sakyo Noda contacts the Japanese whaling fleet
Good news from Esperanza, our ice-class vessel on patrol in the Southern Ocean Whale Sanctuary. Yesterday the Espy had a face to face encounter with the Japanese whaling fleet's factory vessel, the Nisshin Maru, which was confronted close to the ice edge. As soon as they realised that we were in the area, the whalers put on speed and tried to get away.
After a high speed chase over hundreds of miles through fog and increasingly rough seas (see video clip below), the Esperanza this morning pursued the whalers north of the over the 60 degrees latitude mark - out of the Southern Ocean hunting grounds. The catcher vessel Yushin Maru also followed suit.
Although Esperanza's arrival on the scene definitely curtailed the whalers' activities, our crew's best guess is that the Japanese fleet left the sanctuary in order to rendezvous with its supply vessel, the Panamanian-registered tanker Oriental Bluebird, to re-fuel and off-load the whale meat that has already been processed aboard the Nisshin-Maru.
In a radio communication with the Japanese whaling fleet, expedition leader Karli Thomas told the whalers: "Our vessel and crew are here in the Southern Ocean to condemn your hunt, which includes endangered species, and to insist that you return to port immediately.
"We represent millions of people around the world who want to see an end to whaling in the Southern Ocean Whale Sanctuary.
"We join with the majority of people in Japan who do not support whaling on the high seas. Your so-called scientific whaling is a hoax. It has been dismissed as useless by the International Whaling Commission."
The most infuriating thing about all this is that there is a very weak market for whale meat in Japan. Polls consistently indicate that over 60 per cent of the Japanese public oppose whaling, and in recent years the whalers have been unable to sell a large proportion of their catch, resulting in the growing stockpile shown in the graph below.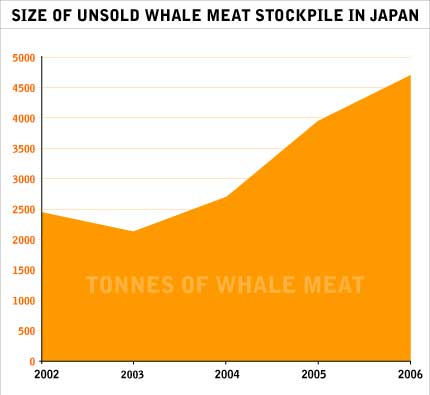 So why does Japan continue to whale? Japan's research whaling benefits only a very few Japanese bureaucrats, and has cost Japanese taxpayers billions of yen in subsidies. It produces research nobody needs, and whale meat very few want. It deserves to be exposed in Japanese society as a scandalous waste of money.
According to Junichi Sato, whales project leader for Greenpeace Japan: "The Japanese people clearly do not support the whaling that is being carried out in their name, and with their tax money. It is time for Prime Minister Fukuda to put an end to Japan's whaling scandal, and to recall the fleet home to Japan."
Take Action: Stop the new whaling ship
If Japan succeeds in plans to build a new whaling factory ship, whaling could continue for decades. Tell the Japanese Prime Minister that building the new factory ship is a bad idea.