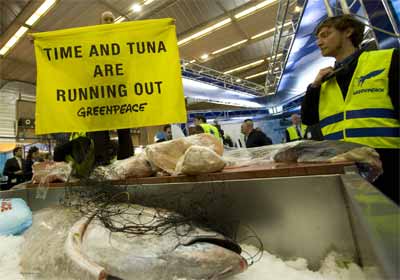 You'd probably find the idea of an event for trading in rhinoceros horns or tiger skins pretty shocking. But today, 1,600 companies from 80 countries came together in Brussels to trade all sorts species, including some threatened and endangered ones: fish, also known as our global marine life.
The Brussels Seafood Expo is the world's biggest sea food trading event, where species on the brink of collapse - like Mediterranean bluefin tuna and North Sea cod - are, literally, served up on a plate.
So 80 Greenpeace volunteers braved the smell and went along to the expo to close down business, locking themselves to stands and covering them with fishing nets. Banners in 13 languages told the traders that 'time and tuna are running out' and, by taking over the sound system, our volunteers explained that stalls - including the one belonging to the world's largest tuna trader, Mitsibushi - had been closed down.
Thanks to bottom trawling, purse seining, longlining, and other destructive fishing methods, the world's oceans are in crisis. Some two-thirds of fish stocks are either fully exploited or overfished and many stocks are on the brink of collapse. Going sustainable, we told traders, is the only way to ensure your business - the world's marine life - has a future.
Our international website has more about today's events, including a slideshow. And please help protect our oceans - part of the Earth's life support system - from fishing by calling for 40 per cent of the world's oceans to be turned into marine reserves.
---
Update 28/04/2008:
A video of the Seafood Expo - more details on our
Making Waves
blog: