Follow the crew of the Arctic Sunrise on their campaign for Marine Reserves in our North Sea Tour blog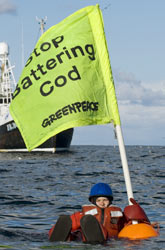 Two pair trawlers we encountered yesterday admitted they were fishing for cod and told us confusingly fishy stories. One boat said it was catching lots of big cod, while the other reckoned they'd trawled loads of young fish. Either way they shouldn't be taking any – cod stocks are now only a fraction of what they were a decade or two ago.
We tracked them and last night managed to document one of the trawlers off-loading bycatch after a haul. As well as lots of small fry, many big recognisable fish were being dumped back into the sea dead or dying, commercial species such as ling, mackerel and redfish. Remember - this waste of life as bycatch is on top of the legal fishing limits which EU scientists say are unsustainable. And they've said that for seven years in a row now – so why aren't the politicians and the fishermen listening?
Early this morning, we made radio contact with the vessels and asked them to stop fishing because North Sea cod are being pushed towards extinction. When they failed to respond, we sent out our inflatable boats and put a swimmer in the water in front of one of the trawlers, holding a flag saying 'Stop Battering Cod'. The aim was to disrupt them while fishing, and it worked. The trawlers soon turned and began to haul their nets.
Then, as they moved off and started to put their net in the water again, we tried another delaying tactic - attaching a large buoy to the fishing net to prevent it from sinking properly. This forced them to haul it back in to remove the buoy, which they punctured in the process.
We're out in the North Sea taking action because politicians haven't. And stopping cod fishing now isn't just about saving cod - ironically, it's about saving the fishing industry too. Tell the politicans it is time for them to take action too, before it is too late. Write to David Miliband and tell him our oceans need marine reserves (This action is now closed).