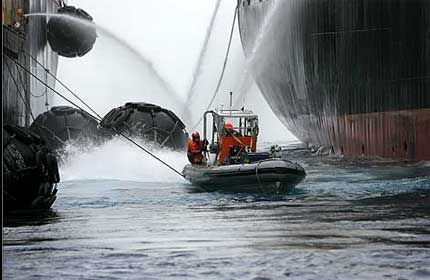 After eleven days successfully preventing the Japanese whaling fleet from killing whales in the Southern Ocean, the crew of the Esperanza were this morning able to inconvenience them still further by delaying the refuelling of their factory ship, the Nisshin Maru.
In a dramatic non-violent protest against the whalers, activists Jetske and Heath placed their inflatable between the Nisshin Maru and the tanker Oriental Bluebird. Both ships turned their water hoses onto the inflatable and continued to close with each other, until after half an hour the inflatable was forced to leave to avoid being crushed. You can see some of the action in the video below.
The Oriental Bluebird plays a key role in the fleet's activities, keeping the ships refuelled and trans-shipping frozen whalemeat from the Nisshin Maru, yet it has no permit to be in this part of the Antarctic, which has been declared a "natural reserve devoted to peace and science" by the Environmental Protocol to the Antarctic Treaty, and where refuelling is a threat to the pristine environment. Japan is a signatory to this treaty, and as such is bound to comply with it's provisions and not undertake
any refuelling operations. This they have consistently failed to do; they also to fail to lodge environmental impact assessments for the whaling fleet with the Antarctic Treaty Secretariat, which are required everytime the ships enter Arctic waters.

Although the attempt to stop Nisshin Maru was ultimately unsuccessful, the good news is that no whaling has now taken place since the Esperanza found the whaling fleet on January 12th. Even better, the Japanese vice-minister of Agriculture, Forestry and Fisheries Toru Shirasu announced yesterday that whaling would not restart while Esperanza was on the scene: "It is very difficult to resume hunting when there is a ship that may interfere with our activity."