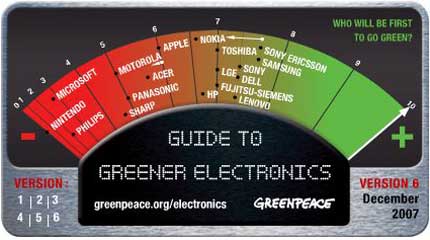 With Christmas getting ever closer we've some unfestive bad news for gaming giants Nintendo, makers of the popular Wii, Gamecube and Game Boy consoles. They've achieved a spectacular zero score in the latest edition of our quarterly Greener Electronics Guide - the first time such a feat has ever been accomplished.
The guide ranks companies on the toxic content of their products and their willingness to take back and recycle them once they become redundant. This is the first time that we've included gaming consoles, giving Nintendo the chance to leap straight into last place - an opportunity they grasped with both hands!
Although Nintendo were the only company to achieve total hopelesness, they faced stiff competition from other luminaries of the electronics world, notably Microsoft and Philips, who put in almost equally abject performances.
Did you know?
The average lifespan of computers in developed countries has dropped from six years in 1997 to just two years in 2005.
At the other end of the scale Sony Ericsson snatched first place from Nokia, while Samsung improved to a creditable third place. You can find a full breakdown of the results and how they were obtained on the Greenpeace International website.
The Greener Electronics Guide is our way of getting the electronics industry to face up to the problem of e-waste. We want manufacturers to get rid of harmful chemicals in their products, as well as putting an end to the stories of unprotected child labourers scavenging mountains of cast-off gadgets created by society's gizmo-loving ways.
If you want to ensure that the gifts you give this festive season don't hang around polluting the Earth long after they've outlived their usefulness, why not consult the guide for pointers in the right direction?