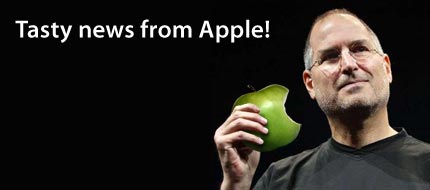 Sometime yesterday, something quite remarkable appeared on the Apple homepage that has caused a flurry of excitement. Take a look - see that green apple down in the bottom left? That wasn't there this time yesterday and behind it is a statement from no less than Steve Jobs, addressing many of the issues that Mac users across the world have been highlighting as part of our Green My Apple campaign.
Being phased out are some of the worst chemicals used in the production of Apple products and by setting a date of 2008 (ie next year), they'll beat pledges by other manufacturers like Dell to phase them out by 2009.
But Steve hasn't properly sorted out Apple's recycling policy: if you're in the US, you'll be able to return your pre-loved iPods but the rest of the world has to wait. So although our campaign is half-won, it doesn't stop yet. What we've achieved so far has been thanks to everyone who's been sending their own, wildly creative messages to Steve Jobs and if you haven't already hugged your Mac or designed your own Green My Apple graphic, now's the time.
And all this comes barely a day after the www.greenmyapple.org website won a Webby Award. With all this excitement in one go, Brian, web guru at our international office in Amsterdam, has described it as like eating too much ice cream. Better switch to apples, Brian - you don't want to rot your teeth.