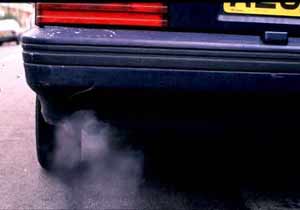 Car exhaust
Greenpeace today condemned Gordon Brown for buckling to pressure and cutting diesel taxes by 3 pence. Greenpeace Policy Director, Stephen Tindale said, "Low sulphur fuels are not green fuels. They are still oil and do nothing to combat climate change. Gordon Brown dressed this up as an environmental measure but he said himself that 100% of the diesel sold in the UK is already low sulphur. So this is a straightforward tax cut.

Cheaper fuel will mean more floods. Brown has done nothing to speed up the shift away from oil. There are non oil-fuels available that cut pollution dramatically.

The Chancellor should set up a green fuel fund to promote and develop the use of gas, bio-diesel, electricity and hydrogen, as called for by Greenpeace and the RAC Foundation."
Further information:
Contact:
Greenpeace Press Office as 020 7865 8255/6/7/8 or Stephen Tindale on 07946 358454