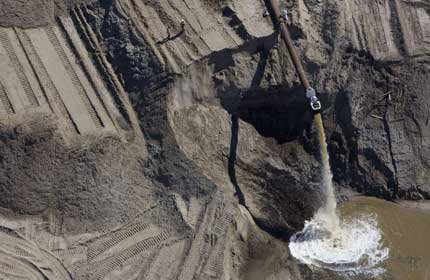 Alberta, Canada - contaminated water from tar sands oil production fills a 2 km wide 'tailings' pool © Greenpeace
Last month our Emerald Paintbrush award presented to BP highlighted how far the company, which previously styled itself as going 'beyond petroleum', has moved back to its traditional profit source at the expense of its alternative energy division, and most likely its long-term profitability.
Investors may have been patting themselves on the back yesterday as BP posted record profits for 2008, but they should be wary - a quick trawl through the figures reveals major flaws in the company's long term investment strategy. Massive profits during the first half of the year (when oil prices reached over $100 per barrel) were undermined by a collapse in the final quarter, when prices fell back to around $40 per barrel.