Before sun-up yesterday morning a Greenpeace team scaled the mesh and barbed wire fence surrounding the US Air Force base at Kleine Brogel in Belgium.
Their mission? To block the runway and prevent nuclear capable F-16 bombers taking off for their morning training session.
The motivation? To protest against US nuclear weapons being based on Belgian soil in clear violation of the Nuclear Non Proliferation Treaty.
Action started at around 9.30 am when they and two further teams, who were situated outside the fence at either end of the runway, raised large orange helium-filled balloons to a height of 50m, preventing the  F-16s from taking off. The activists also strung security tape around the base - emphasising the danger posed by the 20 B61 nuclear bombs housed at the base. Each of these bombs has over 10 times more destructive power than the Hiroshima bomb.
The message on the balloons, tape and associated banners was clear and unequivocal: Nukes out of Europe - the Cold War is Over.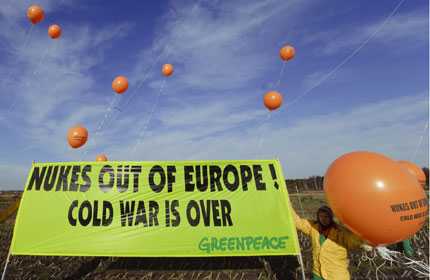 When the action team inside the base tried to access the main runway itself, they were detained by armed soldiers.
It took some time for police to arrive at both ends of the runway, where they then proceeded to reel in and pop the balloons and remove the banners amid passive resistance. All the members of the inside team were transferred to civil police custody in a nearby town prior to their release together at 7.15 pm.
The action follows on the heels of calls by Belgium, Germany, Luxembourg, The Netherlands and Norway for a major debate over the continued basing of NATO nuclear weapons in Europe. The issue is set to be a key topic at the next NATO foreign ministers' meeting in Tallinn, Estonia on April 22.
Take Action
On 3rd April there will be further actions against NATO nuclear weapons in the United Kingdom, Germany, the Netherlands, France, Italy, Turkey, and Belgium. See the Bombspotting website for more details.