A little over two weeks ago, we launched our VW campaign with our spoof video of the company's Darth Vader advert.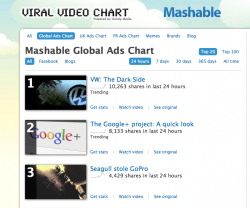 It instantly went viral, becoming the most shared 'ad' worldwide (see pic on the right).
A few days later, with nearly 2 million views and over 100,000 shares on Facebook, the Dark Side stepped in. With no warning, YouTube pulled the film. Then other websites followed suit.
It seems more than a little strange that there are countless spoofs of the same advert untouched on YouTube, including one by the BBC, and yet somehow our campaign film against Volkswagen's environmental record got targeted.
But as Obi-Wan says:
"You can't win Darth. If you strike me down, I shall become more powerful than you could possibly imagine."
The Internet hates nothing more than attempts to silence the truth. And this time we had 200,000+ Jedi to help.
People all over the world leapt into action, re-uploading the film on video sharing sites everywhere, while the censors chased them down with their delete buttons. But we all know there's no delete button on the internet.
That's why today we've gone a step further and setup our own video hosting – a 'GreenpeaceTube' if you like.
That way you can share and embed our Volkswagen viral safe in the knowledge that no spoilsport can pick up the phone and get it deleted.
Because only we can take it down - and that ain't going to happen.
So if you do one thing today, call on Volkswagen to clean up their act and support internet freedoms by sharing this film with your friends on Facebook.
If you're not on Facebook, you can share via email and on Twitter.
May the Force be with you.