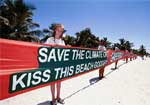 Standing 24 feet above the high-tide line, Greenpeace volunteers and sunbathers at Smathers Beach Wednesday marked the loss the beach could face if global warming continues at its current pace.

"The Keys are going to go under," said Kitsy McMullen, Greenpeace climate impacts campaigner, as the group opened its Take Back the Earth Tour in Key West.

Rising sea levels threaten shorelines and coral reefs everywhere, and Greenpeace activists say President George Bush and Vice President Dick Cheney's energy plan is likely to speed up the effects.

"Florida is on the front lines of global warming," said Greenpeace climate campaigner Karl Riber. In the Keys and throughout the state "the whole economy and ecology is threatened," he added.

The Keys and South Florida ecosystems depend on a balance between fresh and salt water.

Rising sea levels would raise salinity levels in Florida Bay and the channels between the Keys, threatening mangroves, pine islands, sea turtles, Key deer and American crocodiles, McMullen said. Higher water temperatures cause coral bleaching, which kills underwater formations at the Keys' biggest tourist attraction.

"When it rises, everybody is going to have to make adjustments, and building condos on the beach isn't helping," said Key Wester Bill Holland, as he added his hands to the Greenpeace protest by holding a banner.

Jacksonville beach lover Matt Orenchuk, 19, and a group of friends watched the Greenpeace protest. The young men said they often come to Key West.

"That stinks," said Orenchuk, as Greenpeace workers and volunteers unfurled a 260-foot banner across the sand declaring, "Save the Climate or Kiss This Beach Goodbye."