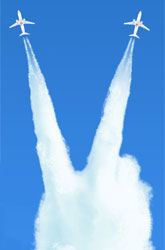 Climate change - you can't open a paper or watch the news without banging your head against it, right? So obviously the message is getting through - our major companies are tripping over themselves in the rush to proclaim their green credentials and how keen they are to take 'corporate responsibility' for their business. Well - up to a point. In the case of our national air carrier, self-appointed 'world's favourite airline' British Airways, up to the point of actually doing anything about it.
The massive growth in cheap flights to short-haul destinations is a key driver behind the rapid increase in CO2 emissions from aviation. Since the late 80s costs have dropped dramatically and this, combined with the development of new regional airports, has encouraged people to 'binge-fly' several times a year, often on short breaks to Europe.
Aviation is the fastest growing source of greenhouse gas emissions in the UK, doubling in the 10 years between 1990-2000 (during the same period CO2 emissions from other activities decreased by nine percent). And pumping out CO2 at 30,000 feet more than doubles the damage of releasing it at ground-level, making aviation responsible for at least 11 percent of the UK's climate impact.
So not the right time, you'd think, for a responsible airline to be launching a new, unnecessary, domestic route? Wrong - step forward British Airways. In flat contradiction of their publicly stated 'concern about climate change', from tomorrow BA will run flights between London Gatwick and Newquay in Cornwall.
The new service will be only a few pounds less than an off-peak train ticket and save passengers only two hours of journey time (once they've travelled to the airport, checked-in and collected their baggage), but will cause 10 times more climate damage. To take on this competition BA is using all the marketing gimmickry at its disposal, advertising in national newspapers and offering bonus points to customers flying more than twice on domestic routes during the month of March.
BA has shown no interest in restricting greenhouse gas emissions. Instead they've gone for greenwash spin, signing up to the European Emission's Trading Scheme (ETS), knowing full-well that the ETS will not mean a reduction in aviation's own emissions. The industry will be able to continue to grow and pollute by trading permits with other industries.
They've been assisted in this by government policy, which plans to expand 30 of the UK's domestic airports to provide capacity for the predicted doubling of passenger numbers by 2030. Most of this will be short-haul flights. Passenger numbers on domestic flights are also growing rapidly, a ludicrous situation in a small island nation facing climate-change induced sea-level rises.
Change your ticket, not the climate
Which is why we have taken out full page adverts in the Independent and Guardian newspapers to let everyone know what BA is up to, and are offering passengers planning to take the inaugural flight the option to do the right thing and swap their air ticket for an equivalent train ticket.