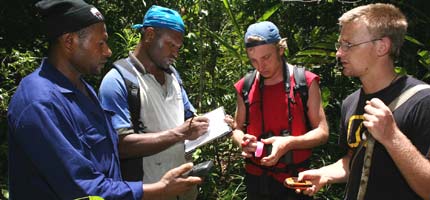 Greenpeace volunteers and Lake Murray clansmen marking out boundaries in 2006
Long-time readers may remember that two years ago a team of Greenpeace campaigners and volunteers arrived at Lake Murray in Papua New Guinea to establish a forest rescue station. They were invited by local clans to help mark out and document the boundaries of their traditional lands, and also to train people in eco-forestry techniques.
Last week, the first fruits of that project were delivered in the form of a shipment of timber from Lake Murray arriving in Sydney. Sep Galeva, a landowner and one of the key players in the eco-timber project, explained to the press how working on this community initiative has helped protect their part of the rainforest from industrial logging.
"What we have shown is that anybody can do this. Forest communities around PNG don't have to rely on industrial logging for survival, they can do it themselves in a way that protects the environment and keeps the land for future generations. Our bad experience with illegal and destructive logging from the Kiunga Aiambak road project, run by Concord Pacific, made my people choose eco-forestry instead so that we have control over our land."
Find the full story on our international website and for a glimpse of the gorgeousness of Papua New Guinea, take a look at this narrated slideshow put together by Greenpeace Australia Pacific.