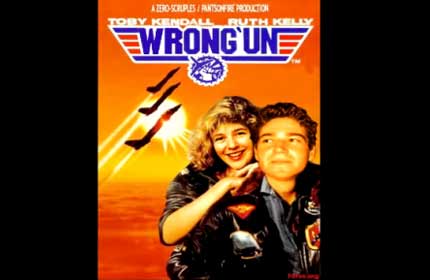 Image from Plane Stupid
I don't know if you've been following this story about the mole who tried to infiltrate Plane Stupid recently but if you're anything like me, you'll be less surprised at the fact that someone's tried to infiltrate a direct action group working on aviation than at the fact that somebody's felt the need to invent the word 'threatscape'.
Toby Kendall / 'Ken Tobias' (the spy concerned, who listed Top Gun as his favourite movie on Bebo, along with 'war movies' and 'revenge movies') works / worked for 'security' firm C2i International. C2i apparently works closely with clients "to understand their unique threatscape" before delivering "appropriate and proactive solutions".
The real question of course is just whose threatscape C2i were planning to deliver proactive solutions for. The false information Plane Stupid fed Kendall about fictional direct actions made it into the papers and led to airport security being alerted at airports around the country. And C2i's clients apparently "include governments and the Aerospace industry".
BAA has said in The Times that it "had no contact with the named individuals but was subject to an unsolicited pitch by C2i. We rejected their invitation to enter into an arrangement with them."
And, according to The Guardian:
C2i has also stated Kendall was operating on his own and his infiltration of Plane Stupid was not sanctioned.

The Department for Transport has denied any involvement with C2i.

Flying Matters, the aviation industry body set up as a rapid rebuttal unit against environmentalists, said that hiring Kendall would be a "ridiculously disproportionate" response. "It's not the sort of thing we would do," said Michelle Di Leo, Flying Matters director.

British Airways declined to comment on Kendall and refused to confirm or deny whether it paid someone to observe the group. "We never discuss detailed matters of security in public," said BA.
Hmmm. Well, as we don't know for sure whose payroll Kendall was on, here are a few entertaining stories to read about how his cover was blown.
In other aviation news, aviation minister James Fitzpatrick suffered a pounding over the whole third runway saga in a fierce parliamentary debate last week. Lib Dem Norman Baker called the government a "willing dealer" to BAA's "fiendish drug addict", and Theresa Villiers (Shadow Secretary of State for Transport), Michael Meacher and Heathrow MP John McDonnel also pitched in, variously slamming the consultation process, calling for leading civil servants to be disciplined / sacked and requesting an independent public inquiry.
The interesting bit for me though was Fitzpatrick's admission that there were 70,000 submissions to the consultation. The last we heard, he'd admitted to just 18,000.
The government's decision on a third runway at Heathrow is due early this summer, so there's still time to add to the threatscape - which you can do from the comfort of your desk, or on the streets. Or both of course.