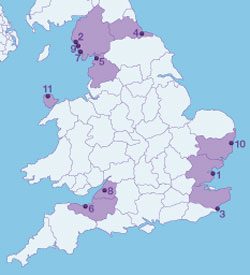 Proposed sites of new nuclear power stations. See below for key
Do you live in the vicinity of one of these 11 locations, which are being proposed as potential sites for new nuclear power stations? Happy about it? If not, then you've got less than three weeks to read and respond to the information provided by the companies bidding to develop each site as part of the government's 'consultation' process.
Not only that, but if you take the information contained in the 'have your say' guide on the government's website, you'll run the risk of being seriously misled over issues as fundamental as how much nuclear actually contributes to the UK's energy mix, and how and where the spent fuel will be disposed of.