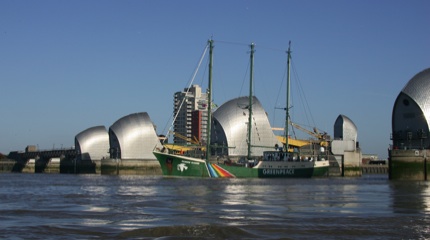 The Rainbow Warrior coming through London's Thames Barrier on Friday afternoon. © Will Rose / Greenpeace.
See all Rainbow Warrior tour updates or get them by email. 
---
Pete's blog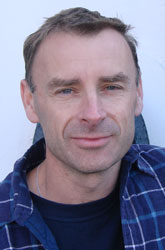 Pete is a volunteer deckhand on the Rainbow Warrior. He wrote this on Thursday, the day after the vigil.
Having been up since 3.40am the previous day, I slept through the night time antics with the projector and the injunction delivery.
Now we are at anchor just upriver from Tilbury. A quieter day of tidying ship and cleaning away equipment. Dark clouds are gathering and a sudden squall blows in. We are keeling over at an angle to the anchor chains. Icy sleet stings our hands and faces as we bring the inflatables alongside to secure them.
But it's warm in the bridge, where we listen to London VTS (Vessel Traffic Service) over the radio. There is a half hourly broadcast telling us: "There is a 50-metre exclusion zone around Tilbury power station for all vessels". Hmmm, I wonder why?
---
Mike's blog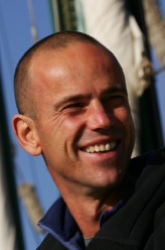 Mike is the Captain of the Rainbow Warrior. Here's an extract of his post to his personal blog about Thursday, the day after the vigil.
At one o'clock in the morning, a note with a round red rubber stamp
marked 'SUPREME COURT OF JUDICATURE - CHANCERY CHAMBERS', was served to
the Rainbow Warrior - the injunction...
An easterly wind was freshening, blowing up the Medway, up the Thames. I dropped the anchor when we reached Yantlet and went to bed - exhausted. But the wind stayed up. We
had
so many boats; two tied up alongside the Rainbow Warrior, one
hanging from the crane wire - pulled up against the side of the ship -
and six on deck. I tried to sleep in the dark of my cabin but lay on my
back listening to the two boats rubbing against the side. I imagined their rigid fibreglass hulls splintering and their frames buckling against Rainbow Warrior's hardened steel.
Then at six am, I lifted the deadlight from my porthole one last time
and in the twilight I saw Paul. He was leaning over the railing, a long
boat hook in his hands, he was in trouble. I hastily pulled on some
warm clothes and rushed out onto the freezing deck. One of the lines
holding the small boats to the ship had parted. Paul was trying to
bring them back alongside... I awoke Tapio to
start the engine. It was time to weigh anchor and head further up the
River Thames in search of shelter. I chose Higham Bight. It's opposite
the Tilbury coal-fired Power Station.