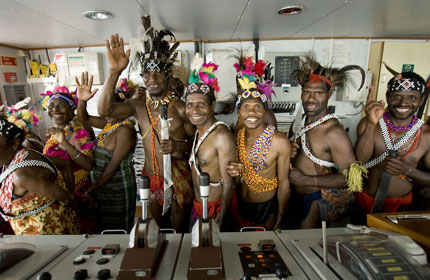 A dance troupe from Manokwari take a tour of the Esperanza's bridge in October 2008 © Greenpeace/Rante
Jamie wrote this - his thoughts and reflections on the ship tour so far - as he was waiting for something to happen in Indonesia last night. Eventually, something did.
Direct actions can be quite boring at times. The few moments of excitement are the ones which make the headlines and the photos, but anyone who has participated themselves will know there can be long, drawn-out stretches when not much is happening. Direct inaction, if you will.
I'm currently experiencing that now. As I write this, nestled in the campaign office on board the Esperanza, we're playing a waiting game. You've probably read about what the crew here has been up to in the Indonesian port of Dumai, painting and blockading palm oil tankers.