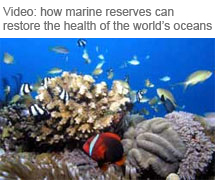 As you probably know by now, marine reserves have a huge role to play in ensuring a future for our oceans, which is why we fish-huggers campaign so vehemently for them.
The scientists tell us that between 20 and 50 per cent of the seas need to be set aside as fully protected, no-take zones – off-limits to all damaging and destructive activity. That means no mineral extraction, dredging, dumping or fishing.
Getting progress on marine reserves is a bit like juggling with Slinkys – it's one of those issues where the politics seems to agree with you, but just manages to deliver precious little. Our politicians all say the right thing when it comes to protecting areas of our seas, there are international commitments, and deadlines for creating protected areas, and there is a huge public demand for doing so. Even the fishing industry is not 'in theory' opposed to them.