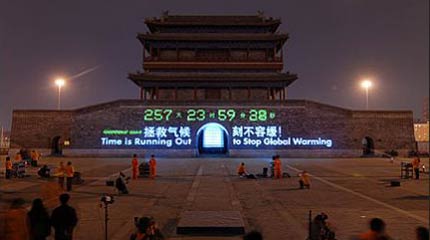 Greenpeace China projects a climate change message onto Yong Ding Gate: Beijing, March 23 2009
The latest monthly slideshow of Greenpeace activities around the world has just been published, and it's been a busy time. Lots of action around climate change, as you'd expect, with big events in the US and Brazil, and a symbolic projection onto the Yong Ding gate in Beijing, China.
There are also picture updates from the forest campaign in Indonesia and Italy, GM actions in the Philippines and Thailand, and a video from the Rainbow Warrior's research mission documentinmg cold water corals off the coast of Norway.
For more images and slideshows from our campaigns around the world, check out the photos, audio and videos section of our international website.