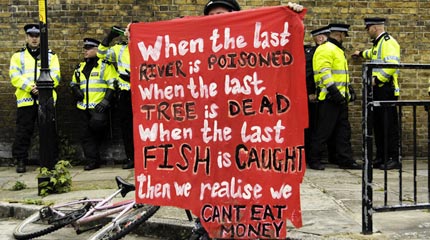 The climate camp's 24 hours of action has drawn to a close and it's been a rare old time with protests springing up all over the country, not just around Heathrow. When I left the camp last night, a large group of people were camped outside BAA's offices near the airport and thanks to Indymedia's rather excellent Twittering, my mobile has continued to deliver updates about what was going on.
Even though they were surrounded by police, the campers were left to blockade the offices pretty much unharrassed. Many stayed overnight and according to the BBC, BAA advised its staff to work from other offices today. The siege finally broke up around 3pm this afternoon.
Elsewhere, it's been a veritable flurry of activity, so much so that I'm forced to resort to a bullet-point list:
Eight protesters chained themselves together yesterday evening, preventing access to British Airways' World Cargo Depot at Hatton Cross. It was several hours before they were removed and arrested, but were later released without charge.

Sizewell nuclear power station also drew some attention, where five protesters blocked the main gate by locking their arms in concrete barrels. Teams of police with cutting equipment normally rush to these kinds of incidents, but none appeared and after about seven hours the protesters eventually unchained themselves and walked away.

The London offices of Bridgepoint Capital, a private equity firm, were also invaded. The company recently bought Bradford-Leeds airport and intends to expand it.

The camp itself is now winding down for another year but of course this isn't the end. The few thousand people who made it to Heathrow over the past week are just the tip of the iceberg and behind them are millions who want to see urgent action taken to cut or carbon emissions.
If you're one of the millions who wants to see change for the better (if you're reading this, I presume you are), take action right now to force businesses and government to see sense. And if the thought of climate change is just too overwhelming, it might help to get together with others who also want to see change for the better - get in touch with other Greenpeace supporters in your area by contacting your local group and find out how you can help.