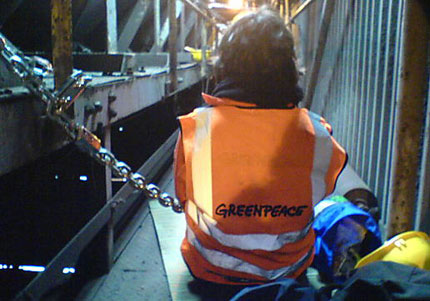 ---
We've taken over Kingsnorth coal fired power station in Kent to send a message to Gordon Brown: don't bottle it on climate change by giving the green light to the first new coal plant in the UK for over 30 years.
Just after 5am this morning, 50 Greenpeace volunteers took over the plant. One group immobilised the huge conveyor belts carrying coal into the plant then chained themselves to the machinery. As I write, a second group is climbing a 200 metre ladder up the chimney, with supplies to hold it for several days and force it off the National Grid.


Why are we there?
Coal is the most polluting of all fossil fuels; it just isn't fit for purpose in the 21st century. No new coal fired power station has been built in the UK in over 30 years but now Gordon Brown may be giving the green light to a new coal rush.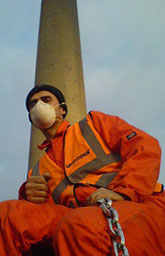 In December last year, E.ON applied to build a new coal plant that would emit as much carbon dioxide as the world's 24 lowest emitting countries combined. Worse, it could keep pumping out emissions for another 50 years. And it will only be 45 per cent efficient, in an age when power stations can reach 95 per cent efficiency. E.ON, the German group behind the plan for the new coal plant, is Britain's single biggest greenhouse gas polluter.
Brown's repeatedly been asked to veto the plans; he's refused. In fact, his government has convened a coal forum to "bring forward ways of strengthening the industry, and working to ensure that the UK has the right framework to secure the long-term future of coal-fired generation."
There's a huge public call to say no to new coal. Over 13,000 of our supporters have written to the local council, - Medway, who can also block the proposal - asking them to turn down the application (thank you!). Councillors are due to give a decision later this month, at which point the proposal will land on Brown's desk.
"I can't understand why there aren't rings of young people blocking bulldozers and preventing them from constructing coal-fired power stations."
Al Gore, 2007We don't need more outdated, inefficient coal fired power plants. We need an energy system that can meet the demands of the 21st century: renewables, energy efficiency and combined heat and power (CHP) on an unprecedented scale: decentralised energy. This is Brown's litmus test on climate change.
If he gives E.ON the go-ahead, he'll be:
• ushering in a new coal rush
• propping up the inefficient, centralised energy generation system that's responsible for two thirds of all the energy within fossil fuels being wasted – potentially for another 50 years
• blowing the UK's chances of meeting the necessary 80 per cent emissions reductions by 2050.
Brown's inherited an energy policy in disarray. Now he has a historic opportunity. He can decide whether to follow Blair's confused and fragmented approach to energy generation, or he can give this country what it needs: a coherent energy framework that puts Britain at the vanguard of the energy revolution and allows us to meet our commitment to produce 20 per cent of all energy from renewables by 2020.
Keep an eye on the blog for the latest updates - and there'll be updates from the scene on Moblog, Flickr and Twitter. You can also keep up with what's going on by becoming our friend on Facebook.
Take action
The last coal fired power station to be built in the UK was in 1974. Let's keep it that way. Write to Gordon Brown now.