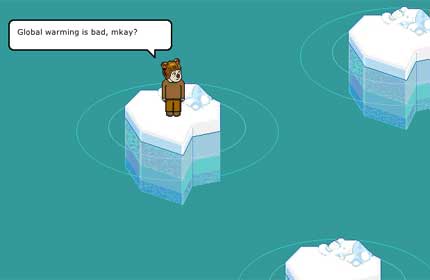 Yes, it's bad. But there's a whole lot us Habbos can do about it!
According to conventional wisdom (oh all right the tabloid press to be more precise) all teenagers ever think about are themselves. So it may come as a surprise that a global survey of almost 50,000 teens released today reveals that they have many other concerns - and that they worry more about dangerous greenhouse gases than drugs, violence or war.
As governments meet in Bali to thrash out a coordinated response to the challenge of climate change, 74 per cent of those polled through the online Habbo community see it as a serious problem. In fact, 56 per cent see it as the greatest threat facing the world today, even greater than terrorism (46 per cent). And they think that governments which are more concerned about terrorism than climate change have got things the wrong way around.
Two thirds of those polled believe climate change will have a negative effect on their lives. And who do they think is responsible? North America comes in for the strongest criticism, with 39 per cent of teens citing the continent as the source of the majority of greenhouse gases, followed by Europe (24 per cent) and Asia (19 per cent). Despite teens in every country pointing fingers at North America for the crisis (except in Asia where they blame themselves), a quarter of North American teens are still not sure if global warming is even a problem.
On the up side, 64 per cent believe that we can control global warming, provided that we act now. Many are planning to promote Saturday's climate day of action by holding events and demonstrations within their virual communities. They see themselves as 'Generation C' - the generation who will have to bear the brunt of dealing with climate change over the coming decades. And their message to the Bali negotiators is clear - there is no more important challenge facing mankind than this.
Let's hope that this message, together with the many others flooding in to Bali from around the world, will get through.
About the survey
The research was conducted within the virtual world, Habbo, and the total amount of respondents (after data cleaning) was 49,243. The research was conducted in November 2007. 18 countries were surveyed and statistical weighting was employed to give all participating countries an equal weight in the global results.
About Habbo
Habbo is a richly colorful, multi-dimensional virtual community and game environment for teens. Users join by creating a fully-customized online character called a Habbo. From there, they can explore many public hang-outs, play a variety of games, connect with friends, decorate their own rooms, and have fun through creativity and self expression. Currently there are Habbo communities in 31 countries on five continents. To date, over 82 million Habbo characters have been created and 6 million unique users worldwide visit Habbo each month (source: Google Analytics).
Your Habbo group
Habbo is a virtual community for teens. There are already 16 Habbos against climate change groups. Find yours and wear a green shirt on December 8th.
Donate
We don't accept money from governments or corporations -- and our financial independence is what allows us to pressure both. We rely on over 2 million people worldwide who give whatever they can. Please join us.