Children's hero Mary Poppins is back. But the air isn't clear as she makes her descent - she has to wear an air pollution mask to cut through the toxic fumes.
Air pollution should be a thing of the past. Instead for the third year in a row, the UK has breached its air pollution annual limit in less than a week. 2017 is already too polluted, the breach happened only 5 days into the year, and 3 days earlier than last year!
The air is not clear but Mary Poppins' message is, the darling politicians need to clean up the UK's air. Thousands of children's health is under threat because of politicians' failure to act.
The single biggest source of the air pollution problem is diesel vehicles. Diesel emissions are toxic to human health and their impacts fall especially hard on children. Yet the government has done almost nothing to tackle diesel since the car companies were caught cheating emissions tests. Unbelievably, the government is still incentivising consumers to buy brand new diesel cars that are pumping out illegal levels of pollution.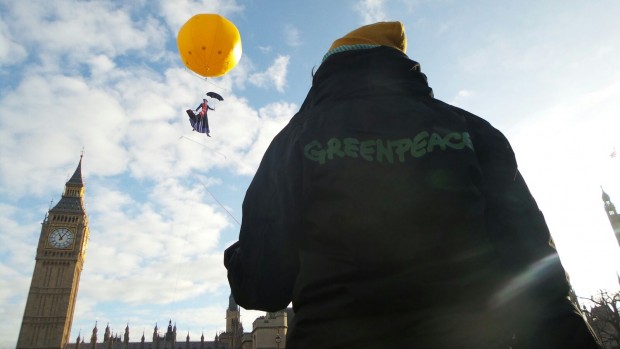 Helped by a crew of Greenpeace activists, Mary Poppins is flying over Parliament today, reminding politicians that their inaction is costing lives. When Mary Poppins was last on our screens in the 60s, the 1956 Clean Air Act had been implemented and the smog had begun to clear. The then Government acted in response to the health crisis caused by air pollution from coal.
Instead of leaving air pollution to the history books, our current Government is creating a tradition of failing to act and breaking annual air pollution limits. This is why today we've taken action.
Dirty air isn't just a big city problem. Last year, people in 169 different places in the UK - from Calderdale to Caerphilly - breathed illegal levels of pollution.
Lots of things contribute to the current crisis, but there's one obvious place to start - the thousands of new diesel cars rolling onto our roads every day. Diesel cars were sold as a green choice, but carmakers lied about how much they pollute. Just today we've learnt that modern diesel cars produce 10 times more toxic air pollution than heavy trucks and buses, according to new European data revealed.
We shouldn't penalise people who bought diesel cars in good faith. But we can stop putting more of them on the roads. If companies can't ensure that these cars meet proper pollution standards, they shouldn't be allowed to sell them.
It's time to stop the sale of new diesel cars, and make sure cleaner options are in everyone's reach. Nearly 70,000 people are calling on the government to make it happen - now's your chance to get on board.