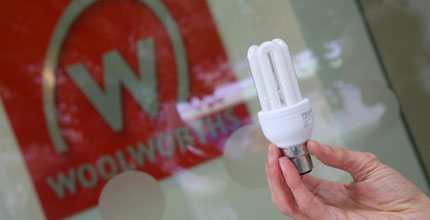 Great news. Woolworths have made a significant shift in their light bulbs policy and, as a result, are not longer bottom of the heap on our retailers league table.
After receiving thousands of emails and signatures from their customers (ie you) eager to see them take a lead on energy efficiency, Woolies will now be phasing out incandescent light bulbs by the end of 2010. It's not quite the 2008 date we were looking for, but never the less it's a massive improvement and they're now well ahead of many other companies such as Tesco and Waitrose. They're also cutting the price of their efficient compact fluorescent light bulbs (CFLs).
And it doesn't stop there. The Co-op have told us they'll also be getting rid of inefficient bulbs by 2010, and Ikea have now committed to a worldwide phase out by 2011, moving both companies up one place on our league table. This leaves only Somerfield with no commitment at all as, according to an e-mail we received yesterday, their position hasn't changed one jot.
This is slightly odd, because they seem to be telling us one thing and the government another. Earlier today at the Labour conference, environment secretary Hilary Benn announced a voluntary initiative to remove incandescent bulbs from all retailers by 2012 and, according to the accompanying statement, it's backed by many retailers including Somerfield. I guess you can voice your support without actually doing anything about it, but the money certainly isn't where the mouth is.
However, Benn's announcement itself is pretty weak. Thanks to our campaign, most major retailers are already doing what the government is asking of them. What would stop all this shilly-shallying and force a major cut in our carbon emissions are mandatory energy efficiency standards. If the government introduced those instead (and not just for light bulbs, we're talking all electrical goods here), just think of the energy we could be saving.
And here's an interesting statistic for you - if all bulbs in the UK were CFLs, we would prevent five million tonnes of CO2 being released into the atmosphere each year. The 26 lowest emitting countries are responsible for 5.2 million tonnes. Makes you think.